Some events to watch for!
If you'd like an event added to the list, email us and we can add it in!
---
Ridge Meadows Quilters Guild
2013 Quilt Show: Quilt Stories, Every quilt has one!
Friday May 3, 10am-7pm
Saturday May 4 10am-3pm
Burnett Fellowship Church, Maple Ridge, BC
Click here for more info
The FVMQG wishes to extend big thanks to the Ridge Meadows Guild for inviting us to exhibit at their show!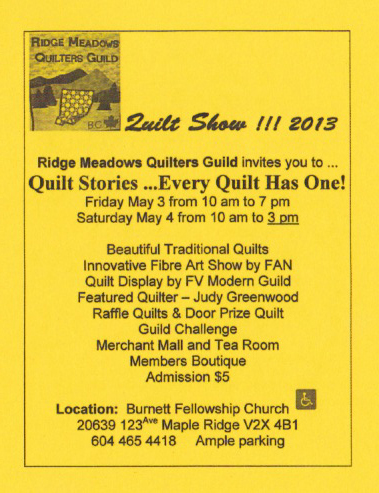 ---
Fraser Valley Quilter's Guild 2013 Bi-annual Quilt Show: Fabric Fiesta
George Preston Rec Centre
20699 42 Ave., Langley BC
Friday June 21, 10am-5pm
Saturday June 22, 10am-5pm
Sunday June 23, 10am-4pm
---
Oregon Summer Quilt Expo (OSQE)
Website: http://www.oregonsummerquiltexpo.com/
Dates: July 11 – 14, 2013
Where: Deschutes County Fair and Expo Center 3800 SW Airport Way Redmond, OR 97756
Time: Thursday/Friday/Saturday 9 a.m. – 6 p.m.
Sunday 9 a.m. – 3:30 p.m.
Cost: $15 for all 4 days (free parking)
On Saturday, July 13, if you purchase a ticket to the OSQE show and park at the show, then you can take the FREE shuttle to the Sisters Outdoor Quilt Show in Sisters, OR (15 miles away).
Show Promoter: Quilt Expos 866-266-3136  or  kay@quiltexpos.com
Featured quilters are Nancy Lee Chong, Peggy Gelbrich, and M'liss Rae Hawley plus we will have a variety of classes and seminars from our talented and creative vendors!
Make the Oregon Summer Quilt Expo part of your summer quilt experience in Central Oregon. The Oregon Summer Quilt Expo is the only quilt indoor climate controlled vendor mall and show during "The Week for Quilters" event in central Oregon. Free parking with great access! Over one hundred vendor booths plus quilt exhibits, classes and seminars for four wonderful days!
---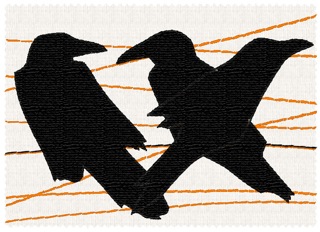 We would like to invite you to join us on Denman Island for the 2nd Annual "Creative Threads Conspiracy", October 25-27, 2013. The event  includes three full days of classes, catered meals and a free Wearable Art Fashion Show as entertainment included in the Saturday evening dinner.
Classes include several by well-known and loved quilting teachers from the area – Sharon Pederson, Ionne McCauley, Barb Mortell, and Carol Piercy; as well as many different streams of fiber arts: Basketry with Cynthia Minden, Felting with Christine O'Neill, Knitting with Jean Cockburn and Kerri Boland, Hardanger Embroidery with Judy Briosi, Rag Rug Braiding with Phyllis Fabbi, Paper Cloth making with Pelka Wiltshire and Natural Dyeing with Anna Heywood-Jones. In addition Marilyn Jensen, a local multimedia artist will teach an all-day class in using your sewing machine as a drawing tool… a great way to truly learn free-style quilting for those who don't yet.
For more information or to register check out our website at:
http://www.creativethreadsconspiracy.com/
Please note: Register soon! Some of the class sizes are very small and therefore, will fill quickly.