Bubbly comes to mind when I think of Helen. She is lovely to visit with and is just as encouraging as she swoons over everyone projects…but don't play her Whitesnake! She's clearly not a fan! Just teasing Helen, just a little fun fact we learnt about Helen this weekend during our Paper Piecing workshop With Sonja Callaghan. I'm just impressed anyone remembers who Whitesnake is anymore…no wait, I'm dating myself here aren't I? …ummm, anyhoo more about Helen!
Photo Courtesy of Carol Browne
1. Who taught you to sew and what age were you?
Of course my mother taught me to sew. I can't remember learning embroidery – probably around
5 yrs. Who can forget lazy daisy stitch? Machine sewing, I was around 10. My mother loved her
sewing machine (Elna Supermatic circa 1961) and didn't really trust me to sew alone. But her
hovering drove me crazy. I had to order her to go into the living room and let me do it myself.
From there on in I sewed many of my clothes and played with decorative stitches.

2. Do you remember the moment when you realized you loved sewing and fabric?
NO. Always there.

3. Have you passed on the addiction? Have you taught anyone else to sew? Is there anyone
especially who comes to mind?
I taught my daughters to sew and all of them do from time to time. They all have a stash of
fabric so at least I passed on the fabric addiction. My husband has a memory of walking through
a fabric department store and watching me and one of my daughters, feeling the fabric as we
passed by, both in the same way. I think we pass this on without even thinking about it.

4. You make quilts but there other creative things you do that involves thread and needles?
I've tried a number of stitchery projects – needlepoint (OMG that unfinished cushion cover is
almost 40 years old!), hardanger, crochet, knitting, and soon some felting.
5. When you're not quilting (or using thread and needles) what other things do you do?
Well, I'm involved in a community garden and meal project, I like film (just don't have enough
time to watch too many), read (too many books, so little time), follow the news, and watch too
much TV.

6. Where do you sew, is it in a studio, at a kitchen table?
I loved sewing at the kitchen table but I do have a sewing room now. Thanks to my wonderful
husband, it's the most organized space I've ever had. I do my best to create lively chaos in there,
then shut the door.

7. Do you listen to music, watch movies or do you just listen to you sewing machine hmmm
as you sew along? If yes to music or movies, what were you listening to the last time you
were working on a quilt?
I like to put the ipod on shuffle for music but a lot of the time it's quiet. Quilting is really a
meditative act for me. Lots of times sound is just a distraction. My shuffle is pretty diverse: folky
rock, rocky folk, classical, choral, spiritual. Maybe Mumford and Sons was playing last.

8. When do you sew? Are you a daytime or nighttime quilter?
Definitely daytime unless I'm under a deadline. I'm pretty much toast after 9 pm.
9. Is there a certain quilting tool you couldn't live without and think everyone else should
have too?
Multiple pincushions placed at various places in the room, my walking feet (I have three and
they all come in handy), magifingers for free motion.

10. If you're stuck on a colour choice or design while quilting who do you consult or bounce
ideas off of?
I'm pretty confident about colour choice. But design – usually I call Laura Miron first but
I'll also post a pic on Facebook and see what ideas come back from non-quilters as well. The
FVMQG Facebook page is such a great way to get good ideas and support. It's like having
friends you didn't know you had!
11. Who is your favourite fabric designer? And why?
There are so many – I surf the net late at night looking at fabric sites and rant, rave, moan and
groan at such great designs. I love Alexander Henry for his bold designs. Lately I've fallen in
love with Tula Pink – her designs are quirky and her palette is beautiful.
12. Who is your favourite quilt designer? And why?
No one designer – I like to try different designs and styles. I loved the workshop with Barb
Mortell. It was very liberating.
13. Do you have a favourite quilting book or blog? If so please divulge?
Tula Pink for sure.
14. Let's talk about your fabric stash, seriously how big is it? (We won't tell, promise!)
Big is such a relative term. Let's just say I have too much. I tried to keep it to projects but I just
couldn't. I think it was Quilt Essential's sample sale that put me over the top. I love to use lots
of colour in my quilts so those smaller pieces of fabric by the pound were irresistible. The first
year I went I spent over $200 and was back in my car 14 minutes after the store opened. Ah, the
memories!

15. What is the colour palette you tend to use the most?
I love blues, purples, greens, pinks, reds.

16. Is there a colour you find you tend not to use in your quilts?
I tried not to use orange – my least favourite colour but it was impossible. Orange pops all the
other colours I love like no other colour. I just have to choose the right oranges, is all.

17. What was the last quilt you made that you were really proud of? What the last quilt you
made that you were disappointed in and what did you learn from it?
I really like the quilt I made at Barb Mortell's workshop. It was a real struggle for me because
I had to break out of the linear paradigm and trust my instincts. The piece is quite bold (my
transformed name for "busy"). I really want to try this method again. My disappointed quilt is
one that I started at the spring retreat. I wanted it to be graphic but it just looks like three zippers
lined up on a dark background. No dynamism at all. I plan to re-cut, slash and piece. How much
worse can it get?

18. For many of us the ideas flow faster than our output. How many projects do you have
in the works right now? And how many quilt projects do you have in the closet with plans
of getting to one day?
Countless ideas. The main task is getting them from the imagination to the sewing machine
and beyond. I've about 6 projects in various stages of unfinishment. Some could be done in a
couple of days – others will take much longer. I like to switch from one to another when I hit
roadblocks.
19. Do you have a favourite quilting technique? Do you have a quilting technique you
dislike?
I love free motion and am learning to get better at it. I do not like stitch in the ditch (echoes of
Dr. Seuss are bouncing in my head – I do not like it when I itch, I do not like it, not one titch!)

20. What are some new challenges you'd like to take on right now? For example, a new
technique you're itching to try, making a larger quilt than ever before or doing something
in a quilt that takes you out of you comfort zone?
I'm eager to see what my Kaufman challenge will look like and I'd like to try some small
projects. It seems I just can't make something small.

And! Plus one more question (The BIG question!)
21. What makes your quilts modern?
I have to admit that accomplishing modern quilting has been more of a challenge for me than I
expected. I've always liked modern patterns more than traditional ones – I like the use of white
space and the graphic quality. I like how simple lines, colour and neutral space hold hidden
patterns beneath the surface or simply don't have repeatable patterns. I like the freedom of
playing with angles and slashes that make a piece interesting to the eye. I admire the technique
of traditional quilts well done but I am always looking for that "thing" that disrupts the pattern
or colour. Modern quilting challenges the place of symmetry as a necessary quality for a quilt.
Oddly I find, that, even though I know what I like and I'm a confident quilter, I'm always
stepping into unknown territory to "go modern". This process though, is one of the most exciting
ventures in sewing craft I've ever done. I love seeing what my fellow FVMQG peeps and others
will make out of challenges and projects. Inspiring!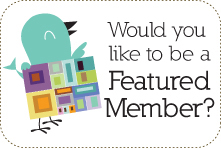 Each month we'll be featuring one of our members here and on the blog, and get to know them with a fun little questionnaire about what they love to sew, their favorite colours, fabrics and other quilty goodness they'd like to share. If you'd like to be on the list or would like to nominate a member to be featured, contact us and let us know.