Did you know we have a Frazer Valley Quilt Guild Member that lives in TEXAS! We do!… and we are very happy she accepted the crowned glory of being Miss June 2012! Woo Hoo!
1. Who taught you to sew and what age were you?

I wanted to learn to sew as a kid but I was really bad at it and I think my Mom got frustrated and it just never happened. So I bought a sewing machine (Bernina 440QE) when I was 28 and decided to just figure it out. I think it's safe to say that the ladies at the Bernina store taught me to sew since they taught me how to use the machine. Everything else is just an experiment.
2. Do you remember the moment when you realized you loved sewing and fabric?
I've always loved looking at fabrics and tracing the pretty designs. I can't remember when I wasn't playing with my Grandmother's or Mother's fabrics.
3. Have you passed on the addiction? Have you taught anyone else to sew? Is there anyone especially who comes to mind?
I've taught a few people to hand piece hexagons, but I don't think they have found that as addicting as I do. Otherwise, nope, not a one. Someone did ask the other day so we'll see.
4. You make quilts but there other creative things you do that involves thread and needles?
I used to make tons of little and big bags to hold knitting. I embroider and cross stitch. Do knitting and crochet count? I've recently gotten into a spot where I might get to do some leather work. I love to experiment and try new things so if it involves needle and thread I'm there.
5. When you're not quilting (or using thread and needles) what other things do you do?
Quilting and knitting are my big hobbies but (and this is very sad) I love to clean and spend a lot of time doing that, I spend a bit of time each week out in the garden (flowers), and I am a huge reader. Occasionally I've been known to make sculptures out of everyday objects or to pick up a paint brush. Most my other time is either exercise or my work.
6. Where do you sew, is it in a studio, at a kitchen table?
I have a dedicated sewing studio, but I never use it. Usually I'm hanging out in the kitchen with the bulldogs. The studio is upstairs and the dogs can't take the stairs by themselves so I'd have to carry them. Its just not usually worth the effort. So basically I guess I have a sewing storage space instead of a studio.
7. Do you listen to music, watch movies or do you just listen to you sewing machine hmmm as you sew along? If yes to music or movies, what were you listening to the last time youwere working on a quilt?
I think I'm a little of "listen to the sewing machine hum". We lead a very quiet little life down here in Texas. There is enough hustle and bustle and noise out in the city so when I'm home I love the peace and calm of the birds and bugs and wind in the trees. Though most of the summer it's really too hot to consider sewing outside. (No TV in this house!)
8. When do you sew? Are you a daytime or nighttime quilter?
Weekends? I get a three day weekend every week. Sometimes I'll get things together during the week and/or do some cutting but my work day starts at 3:45 AM and doesn't really end until I get home around 6 PM. Then I'm the early to bed type. It doesn't make for a lot of sewing time in the evenings once you get past dog walking, feeding all the animals, my own dinner, any cleaning around the house, etc, that make up a life.
9. Is there a certain quilting tool you couldn't live without and think everyone else should
have too?
Just needle, thread, scissors, and something resembling fabric and I'm happy. Pretty much anything is fair game for me. If I need a tool I don't have I usually try and find something around the house or yard that will do what I need.
10. If you're stuck on a colour (or color) choice or design while quilting who do you consult or bounce
ideas off of?
Most of the time I just wing it. I'm pretty good about trusting my instincts. Sometimes it doesn't quite work out the way I'd hope, but then I just rip and go back to the beginning. More often than not someone is coming to me for colour or design ideas instead.
11. Who is your favourite fabric designer? And why?
Cynthia Frenette. Simply because she's awesome and everything she does is amazing, as you all know. Otherwise, spring of 2008 is when I got really comfortable with my machine and decided I could try more expensive fabrics. The first line I completely fell in love with was Nest from Tula Pink. I love her designs because they are usually bright and detailed and all around interesting to look at. I also love American Jane for their vintage feel and bright primary colors. Usually I like to get the brightest and most cheerful of fabrics from any designer.
12. Who is your favourite quilt designer? And why?
I'm not big on patterns and tend to do a lot of "winging it" type quilts and bags so I probably don't have a favorite designer. Once I start sewing clothes that might change.
13. Do you have a favourite quilting book or blog? If so please divulge?
I don't think I do. I have a bunch of blogs in my google reader, but nothing I'd pin as a favorite. I love bloggers who use bright colors, interesting designs (their own or other people's) and do a wide variety of crafty things (quilting, knitting, sewing, painting, beads, etc…).
14. Let's talk about your fabric stash, seriously how big is it? (We won't tell, promise!)
I have a bookcase in my studio that is about a foot deep and four feet wide. Each shelf is probably a foot between. I have two and a half shelves full of bright and cheerful fabrics. I have a nice bucket for scraps but I have a tendency to cut fabric into scraps so I can use them right then to make scrappy quilts so it doesn't stay full. I have a HUGE collection of batting (warm and natural) hiding under my bed. We'll be well insulated if it ever gets cold down here.

15. What is the colour palette you tend to use the most?
Brights. Any and all. As many colours as I can get in one project the better.16. Is there a colour you find you tend not to use in your quilts?
Probably my least favorite color in quilts is brown. I still use quite a bit of it, but mostly I think it makes the finished project duller so I try to use it sparingly if at all. (For everything else I do the answer to this question is blue, but apparently blue is ok for quilts.)
17. What was the last quilt you made that you were really proud of? What the last quilt youmade that you were disappointed in and what did you learn from it?
I'm pretty much proud of every quilt I make and each is a learning experience. I taught myself to do this and with that I accepted there would be a lot of ripping and re-trying. I think that means I'm never disappointed. I simply start over when it doesn't come out quite the way I imagined.
18. For many of us the ideas flow faster than our output. How many projects do you have in the works right now? And how many quilt projects do you have in the closet with plans of getting to one day?
Let's see on the go…I have two in the piecing stage: one consists of leftover squares from a quilt I made for my boss' granddaughter and the other is a love note to my sweetie. I have one that was started when I was in Vancouver visiting Cynthia two years ago. I'm hand sewing that one. Its taking some time but has now stalled because my house is on the market and I need to lay it out and leave it laid out. Once I move!! One I wanted to stipple or practice stippling on but needed someone to show me how first. (Thanks Cynthia!) I have the front and back for that ready. One I can't decide what size it should be so I'm not sure if I'm finished yet. Part of me says just make it king sized and move on. So that is actually five on the go for sure, but since I've probably forgotten something we'll just round up and say seven. Does ruminating in my head count as being in the closet with plans of getting to one day? If so, there might be a couple hundred.
19. Do you have a favourite quilting technique? Do you have a quilting technique you
dislike?
I love free form lines. Whether they zig and zag, cut across at crazy angles, horizontal or vertical, form diamonds, curve left and right. It doesn't matter I love them all. I'm not sure there is any technique I really dislike, just a lot of stuff I don't yet know about.
20. What are some new challenges you'd like to take on right now? For example, a new technique you're itching to try, making a larger quilt than ever before or doing something
in a quilt that takes you out of you comfort zone?
Cynthia was kind enough to teach me free motion (stippling!) the last time I was in Vancouver (May) so I think I'm going to be getting some practice with that in the near future if I ever have time to sew.
And! Plus one more question (The BIG question!)
21. What makes your quilts modern?
I haven't really analyzed what makes a quilt modern versus traditional. I think these two ideas overlap far more than they are made out to. I love traditional designs, I love wonky designs, I love modern design, I love to mix and match. I love bright colors but also love muted colors. I love big prints and small prints. I think what makes quilters "modern" is really the global community we've built. Whether "traditional" or "modern" we are using the same patterns (sometimes with a twist), the same techniques and the same skill sets as we were so many years ago. Now we have lovely bits and bobs and gadgets to play with and help us along, but the idea and the action really is the same. What's changed is that we were limited in who we could seek advice from, in who saw our finished products, on who to share with. Now? I'm not sure, but I think there is a good chance I am the only FVMQG member that lives in Texas. Way back in the day I simply wouldn't know all of you. I wouldn't get to have a sew-in via skype or ask Cynthia to teach me to stipple. I think that is what makes us modern. We have unlimited potential because we have the world to explore, thousands of people to share with and get advice from, and so many different cultural viewpoints to influence us.
Thanks for letting me be Miss June! Sorry this is so late getting to you guys!!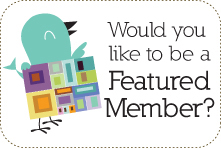 Each month we'll be featuring one of our members here and on the blog, and get to know them with a fun little questionnaire about what they love to sew, their favorite colours, fabrics and other quilty goodness they'd like to share. If you'd like to be on the list or would like to nominate a member to be featured, contact us and let us know.