Canadian MQG Block Lotto Challenge 2018
Okay everyone. Get ready. The Canadians are coming. Many of Canadian Guilds MQG's across Canada are participating in a common block challenge.
Launching September/October 2018
Completion: October/November 2018
The Block – Wedges as Topography
Size: 9" Finished i.e. 9½" unfinished
Colour: Solids with white. Note:  FVMQG blocks must have green and white in them and you are asked to think, "tulips".
Hashtags: #cdnmqgblocklotto2018, #wedgesastopography
Facebook Groups: Modern Quilting in Canada, Canadian Modern Quilters
When
It's tricky trying to line up all the guilds as we all have different meeting schedules. Guilds will launch the block lotto at their first meeting after September 1st. The lotto can be completed at their first meeting after October 1st.
The Block
"Wedges as Topography" was designed by Adrienne Van Halem @agentpeachquilts .  There was an invitation to the executives of the Canadian MQG's to submit a modern block. A poll was taken on the Canadian MQG Executive Facebook page and this block had the most votes.  It uses a 'wedge' technique to represent a modern landscape.
Size
Block will be 9" finished.
That means 9 ½" unfinished.
Colour
Solid colours only. Any fabric line will do.
Every block should contain at least one piece of WHITE… we are not going to be picky about what type of white as long as it's the brightest one you have. It can be the background or an itsy
tiny piece.  This is a link to the pdf file outlining the guidelines:  https://www.justgetitdonequilts.com/canadian-mqg-block-lotto-challenge
Our guilds' color palette will be tulips. Each block MUST have Green and White. The other colors are your choice, but think TULIPS
This is a sample of 20 blocks using a limited color palette for inspiration or ideas.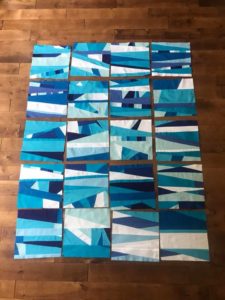 Blocks are due at our November meeting where we will draw for the winner. We will be posting pictures of our finished blocks on Instagram as we go. Be sure to follow the Instagram link to see what other guilds are doing! Each guild is following the same guidelines, but has chosen their own color palette.
This is an improv wedge block, and thanks to Katheryn and Joann's great ideas for the last community quilt block many of you are now a bit familiar with the process.
Hashtags:   #cdnmqgblocklotto2018, #wedgesastopography, #fvmqg
Are you more of a visual person?  Watch this video: