This Month's Featured Member…may be a librarian but we know under that red hair she puts her sewing machine petal to the metal! Give a big hand for Miss October Sherri! Hurrah!!
Are you ready? 20 questions plus one…

1. Who taught you to sew and what age were you?
My mom taught me the basics of sewing at some point when I was growing up but I can't remember a specific age. I would make a few crafty things once in a while and I made an apron in grade 8 sewing but never really got into sewing until I learned how to quilt. I first learned how to quilt from my husband's half sister who lives in England. She came out for a visit and brought some hand quilting with her. The moment I saw it I fell in love with the whole concept of quilting. She was kind enough to teach me all the basics of hand quilting. From there I moved to using the machine so I could speed things up a little. I even managed to do a whole art course toward my degree in quilting projects. I took a break from quilting when my kids were young and then took a few classes on machine quilting to learn how to do it properly. Now I am completely obsessed again.
2. Do you remember the moment when you realized you loved sewing and fabric?
As I said above, when I first saw quilting and how the pieces went together I was in love.
3. Have you passed on the addiction? Have you taught anyone else to sew? Is there anyone especially who comes to mind?
Sadly, I have not passed on my addiction to anyone yet. I've been trying to get my daughter interested but no luck yet. I did get her to try a little free motion quilting once when I was practicing and she was pretty good but that brief few minutes was the only interest I got from her. I'll keep trying and maybe one day…..
4. You make quilts but there other creative things you do that involves thread and needles?
I like to cross stitch as well. I did a lot when my kids were little but not much now.
5. When you're not quilting (or using thread and needles) what other things do you do?
I like to paint, read, walk and hike and do yoga.

6. Where do you sew, is it in a studio, at a kitchen table?
I have a tiny sewing room that I share with my husband's fly tying stuff. I do take up more of the space though. If I have something larger that I'm working on like sandwiching or quilting I will do it on the dining room table.

7. Do you listen to music, watch movies or do you just listen to you sewing machine hmmm as you sew along? If yes to music or movies, what were you listening too the last time your were working on a quilt? I like to watch movies or TV when I quilt. I really like watching Netflix on my laptop. My favorite show to quilt to was Monk but I've finished all the shows now so I'm on to other things. When I was quilting last night I was watching Cityline from a great CityTV app on my Ipad.
8. When do you sew? Are you a daytime or nighttime quilter?
I like to sew whenever I can. It usually ends up being more at night but any free moment I get I'm heading for my quilting room.

9. Is there a certain quilting tool you couldn't live without and think everyone else should have too?
I really like my Bernina sewing machine that I got last year. I also like using binding clips instead of pins when I'm hand stitching the binding.
10. If you're stuck on a colour choice or design while quilting who do you consult or bounce ideas off of?
I will ask whoever is around. Usually my husband or my kids.

11. Who is your favourite fabric designer? And why?
Cynthia is my favourite designer because she has such amazingly cool designs.

12. Who is your favourite quilt designer? And why?
I like Elizabeth Hartman from Oh Fransson. Why? Well her designs are just super cool and fun to make.
13. Do you have a favourite quilting book or blog? If so please divulge?
I like Cynthia's blog and as I already mentioned, Oh Fransson.

14. Let's talk about your fabric stash, seriously how big is it? (We won't tell, promise!)
It's not too big yet but it keeps growing.

15. What is the colour palette you tend to use the most?
I tend to use bright colours a lot.


16. Is there a colour you find you tend not to use in your quilts.
I don't like muddy or earthtone colours.
17. What was the last quilt you made that you were really proud of? What the last quilt you made that you were disappointed in and what did you learn from it?
I'm proud of any quilt that gets finished.
18. For many of us the ideas flow faster than our output. How many projects do you have in the works right now? And how many quilt projects do you have in the closet with plans of getting to one day?
This is a little scary. I have 8 works in progress and at least 9 (maybe more) that I'm planning to start one day.

19. Do you have a favourite quilting technique? Do you have a quilting technique you dislike?
I really like piecing the quilt and love how it looks when it all comes together. As for a specific technique, I like paper piecing. I tend not to like quilting as much as putting the top together (hence the many WIPs) and I'm not very good at free motion quilting.
20. What are some new challenges you'd like to take on right now? For example, a new technique you're itching to try, making a larger quilt than ever before or doing something in a quilt that takes you out of you comfort zone?
I would really like to get better at free motion quilting (practice, practice, practice) and I'd like to try more art quilts and things of my own design.

And! Plus one more question (The BIG question!)
21. What makes your quilts modern?
Well I think using more modern prints and unexpected colours in more traditional designs as well as trying more modern designs makes my quilts modern. Also making up my own designs that don't follow the rules is modern.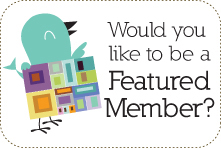 Each month we'll be featuring one of our members here and on the blog, and get to know them with a fun little questionnaire about what they love to sew, their favorite colours, fabrics and other quilty goodness they'd like to share. If you'd like to be on the list or would like to nominate a member to be featured, contact us and let us know.