She's Blond, she's beautiful and man can she sew! Give it up for Kat!
1. Who taught you to sew and what age were you? I remember my mom allowing me to use her toy hand cranked Singer sewing machine machine when I was a child, and I made clothes for my teddy bear and dolls. My grandma taught me how to make a simple embroidered pillow and also beaded and macrame plant hangers! My mom bequethed me the sewing machine when she passed. I treasure it!


2. Do you remember the moment when you realized you loved sewing and fabric? I think I fell in love with sewing when I was super young! Really! I treasure the quilt my grandma made for me. It is scrappy with a flannel back, I was probably three or four when it was given to me. I also remember going to a fair in Chilliwack at a very young age with my mom and grandma and walking through the home arts section and seeing the quilts displayed and just admiring them. It's a memory that has stayed with me, as my grandma described how Chilliwack had flooded and that where we were standing had been underwater many years before (http://www.chilliwackmuseum.ca/Flood_5.html).

3. Have you passed on the addiction? Have you taught anyone else to sew? Is there anyone especially who comes to mind? My former neighbour and friend Kimiko. I helped her make her first quilt. I am sure she has surpassed me in finished projects! LOL! I have also had my son make a block for a pillow, and managed to keep my nephew (when he was about 8) interested long enough to sew a block. Unfortunately, my daughter hasn't caught the bug (yet)!
4. You make quilts but are there other creative things you do that involves thread and needles? Hmmm. I collect a LOT of fabric. I eek out time here and there to make useful items, like cat beds to donate to animal shelters, but my addiction really is quilts and quilting!


5. When you're not quilting (or using thread and needles) what other things do you do? I work full time, I'm the program chair for another guild, I like to do volunteer/community work, my husband and I try to walk every day, hiking, I enjoy reading, scouring blogs for awesome ideas and cool quilty talents, enjoying life!
6. Where do you sew, is it in a studio, at a kitchen table? I am sewwww spoiled. I have a very large sewing room (ok, studio, I guess), albeit, a messy studio! I am soo very fortunate to have an awesome husband who insisted I have this room (the size of two bedrooms) for my favourite pastime!

7. Do you listen to music, watch movies or do you just listen to you sewing machine hmmm as you sew along? If yes to music or movies, what were you listening to the last time your were working on a quilt? I usually have the TV on for background noise. I'll watch Criminal Minds, Storage Wars, Deadliest Catch or River Monsters or whatever else comes on (did I mention I sew often late at night?)
8. When do you sew? Are you a daytime or nighttime quilter? Nighttime spurts or weekend blitzes.


9. Is there a certain quilting tool you couldn't live without and think everyone else should have too? Since I discovered it, I love using Best Press. It make such a difference.

10. If you're stuck on a colour choice or design while quilting who do you consult or bounce ideas off of? I would say my hubby. We sometimes don't agree, but when he suggests something, sometimes I know that's not going to work, and we both agree, so he helps me by process of elimination.
11. Who is your favourite fabric designer? And why? I love Cynthia's designs on Spoonflower. She is awesome! http://www.spoonflower.com/profiles/cynthiafrenette I like http://valoriwells.typepad.com/ , generally though, I'm not that familiar with distinctive fabric designers, I just will love the design and then realize it's a designer I've bought before.

12. Who is your favourite quilt designer? And why? Oh Fransson/Elizabeth Hartman. Super talented, creative, generous and giving (so many free patterns), fresh and modern!


13. Do you have a favourite quilting book or blog? If so please divulge? Oh Fransson, Cluck Cluck Sew and Film in the Fridge are top of the list. I of course very much enjoy our local talent extraordinaires: Cynthia, Lysa and Paul K, Sonja, Amy from VMQG.
14. Let's talk about your fabric stash, seriously how big is it? (We won't tell, promise!) Four cupboards x 6 shelves, rubbermaid bins, a buffet, rolling wheeled drawers…and suitcases of batting. OH, and giant roll of batting in the downstairs bathtub (a seriously good price, really)…ok, seriously out of control!
15. What is the colour palette you tend to use the most? I use almost any colour, it depends on my mood and the recipient. My friend jokes that she knows my quilts because I like to have some cheddar in them. It's true!
16. Is there a colour you find you tend not to use in your quilts? I don't have a lot of yellow in my stash. I like yellow, I just don't tend to use a lot of it.

17. What was the last quilt you made that you were really proud of? What the last quilt you made that you were disappointed in and what did you learn from it? My daughter's quilt with a big orange polka dot flower (almost finished binding). I quilted it about 1/4″ apart the entire thing, did some stippling and free motion. I love the texture of it! I guess my first quilt is/was my most disappointing. I loved it when I made it, but oh man, I showed it at our October meeting, because it is scary! So dated! What did I learn from it? I can look at it and think, "You've come a long way, baby!!"
18. For many of us the ideas flow faster than our output. How many projects do you have in the works right now? And how many quilt projects do you have in the closet with plans of getting to one day? Umm, ok, let's go visit my stash, it's less intimidating!? This is beginning to sound like a confession! Actively on the go – 6-10. Plans for getting to one day-too numerous to count. And full-on UFO's – probably 50 (Yikes! Did I say that out loud?)


19. Do you have a favourite quilting technique? Do you have a quilting technique you dislike? Favourite – strip piecing. Least favouite – hand quilting.


20. What are some new challenges you'd like to take on right now? For example, a new technique you're itching to try, making a larger quilt than ever before or doing something in a quilt that takes you out of you comfort zone? I can't wait to try an improvised quilt (inspired by Gee's Bend). Paul will be teaching a class at my other guild, on improvisation piecing and I can't wait!
And! Plus one more question (The BIG question!)
21. What makes your quilts modern? Wow, I am all over the map. I would say my "modern" quilts (a new avenue for me) are modern because of the fresh, modern fabrics they are made from, not overly complicated or cluttered, but with style that makes them so appealing. They are quilts to make you happy!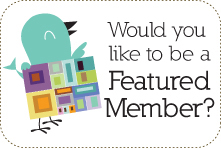 Each month we'll be featuring one of our members here and on the blog, and get to know them with a fun little questionnaire about what they love to sew, their favorite colours, fabrics and other quilty goodness they'd like to share. If you'd like to be on the list or would like to nominate a member to be featured, contact us and let us know.