She's amazing, lovely and sweet, not to mentioned has loads of talent! Here is Miss March, Rachel's answers to our 20 questions (plus one!)
Psst…she just opened an Etsy store and started a blog …*in a sing song whisper*… but you gotta read to the end to find out about it, wink, wink!
1. Who taught you to sew and what age were you?
My Mom was the one who introduced me to sewing. She made clothing for my when I was little and quilted too. The first stitch I took was on my moms sewing machine. I was allowed to sew straight line using remnants. My line was perfect. From there I remember sewing late into the evening, when everyone else had gone to sleep. I took fabric remnants and designed my own creations.
2. Do you remember the moment when you realized you loved sewing and fabric?
I don't know. It has been apart of me for as long as I remember.
3. Have you passed on the addiction? Have you taught anyone else to sew? Is there anyone especially who comes to mind?
I teach! My favorite part about instructing is sharing the skills passed onto me. After a class gets out, I'm on a high. I love to help and encourage. Plus everyone gets excited about quilting and starting a new project.
4. You make quilts but there other creative things you do that involves thread and needles?
Do I ever! If you can put a needle through it with some thread, I have done it.
Once I used my brand new sewing machine, a 21st Birthday present, to sew long strips of painted canvas. There were 12 layers of acrylic paint and 3 layers of canvas and my sewing machine didn't even skip a stitch.
I have also made slippers out of coffee to go cups. I drank most of these myself, with help from my caffeine addicted family.
5. When you're not quilting (or using thread and needles) what other things do you do?
I am going to the University of the Fraser Valley, working towards a Bachelors of Fine Arts Degree. I work with acrylic paint and sculpture from 2-D materials.
I enjoy cooking. I love to bake! Food Network is my white noise.
6.Where do you sew, is it in a studio, at a kitchen table?
My studio is a combo sewing room/painting studio and a personal library catalogue of amazing books I have collected. I have to get creative with storage but I have adapted a tidier way of working since moving into this space.
7. Do you listen to music, watch movies or do you just listen to you sewing machine hmmm as you sew along? If yes to music or movies, what were you listening to the last time you were working on a quilt?
I will put a movie on or watch an entire season of my favorite show while I sew. Sometimes, I have my IPod, but, often I just sit in the studio lost in my own thoughts.
8. When do you sew? Are you a daytime or nighttime quilter?
I sew in the afternoons and until sunrises. I find my best ideas come to me in the middle of the night.
9. Is there a certain quilting tool you couldn't live without and think everyone else should have too?
My sewing machine, Bernina 430. It hasn't let me down. What ever I sew, my machine happily agrees with it. Without my sewing machine I am lost.

10. If you're stuck on a colour choice or design while quilting who do you consult or bounce ideas off of?
I share my design ideas with my Mom. She helps narrow down fabric choices, however I don't always do what she suggests. When I get something in my head and she doesn't agree that it will work, I then take it on as a personal challenge to prove that it will.
11. Who is your favourite fabric designer? And why?
I like many designers. I also enjoy mixing designers and blending fabric lines.
12. Who is your favourite quilt designer? And why?
I enjoy quilting patterns that have clear directions and visuals.
13. Do you have a favourite quilting book or blog? If so please divulge?
Dare to be Square Quilting, Boo Davis. The book features boxy kitsch design. I love good kitsch.
14. Let's talk about your fabric stash, seriously how big is it? (We won't tell, promise!)
Shhh. 23 clear totes with multiple quilt tops in various stages of completion. 17 photo boxes sorted by fabric colour. 4 massive rubber totes filled with finished quilt tops, backings, meters of fabric and sewing project I have started ,but, not finished yet.
15. What is the colour palette you tend to use the most?
I love all colours. If you look at my stash I do have piles of teal, turquoise, lime and acid green, hot pink but most of all I love ORANGE! I only have a small assortment of orange fabric in my stash because I use it all.
16. Is there a colour you find you tend not to use in your quilts?
Nope, I used it all.
17. What was the last quilt you made that you were really proud of? What the last quilt you made that you were disappointed in and what did you learn from it?
Straight as an Arrow is my most recent quilt. I love to colours and the design is my own creation.
Quilts that I'm most disappointed in are ones that have been abandoned before they are finished. I could say they weren't my favorite quilts, however, I typically fall out of love with one quilt because I had a more excited idea that needed my attention.
18. For many of us the ideas flow faster than our output. How many projects do you have in the works right now? And how many quilt projects do you have in the closet with plans of getting to one day?
Before I have finished my last quilt the gears are turning as I plan for my next project. The hardest part is sticking it out until a quilt is completed. I love coming up with new idea.
19. Do you have a favourite quilting technique? Do you have a quilting technique you dislike?
I don't have a technique that stands out more than others. Although, I do shy away from free-motion quilting. Honestly, I don't have the patience or the time required to achieve the results I would love.
20. What are some new challenges you'd like to take on right now? For example, a new technique you're itching to try, making a larger quilt than ever before or doing something in a quilt that takes you out of you comfort zone?
A large design board is on my wish list, mine is too small. The space will allow me to work on quilt projects that are freeform.
And! Plus one more question (The BIG question!)
21. What makes your quilts modern?
Modern quilting uses the skills and materials of traditional quilters, well almost, we have the advantage of Roxanne's glue base, 505 and Best Press, to aid in the construction of our quilts.
I like my modern quilts with structure. I don't add unnecessary elements but instead I put emphasis on the basics. I begin with shapes and scale when dreaming up my next quilt design.
I will drool over an entire fabric line, but, I find collections to be to limiting. Once you start to play around with colour and print you can personalize it fit your style.
Want to find out more about Rachel? Check out her blog Not your Run of the Mill OR if your interested in one of Rachels patterns, she just opened a shop on Etsy Not Your Run of the Mill.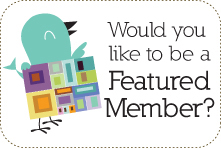 Each month we'll be featuring one of our members here and on the blog, and get to know them with a fun little questionnaire about what they love to sew, their favorite colours, fabrics and other quilty goodness they'd like to share. If you'd like to be on the list or would like to nominate a member to be featured, contact us and let us know.