This Month's Featured Member… Your favorite hostest with the mostest, we know her, we love her,  give a big hand to Lysa Mair!Hurrah!!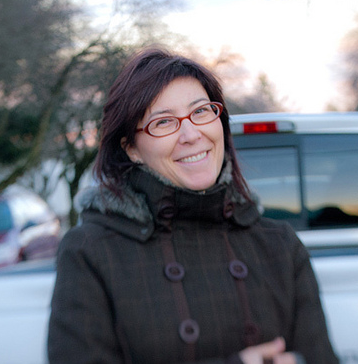 Are you ready? 20 questions plus one….
1. Who taught you to sew and how long have you been sewing for?
Do you want the short answer or the long answer?
Short answer: My mom started me off sewing around age 5 and my high school teacher taught me to sew clothing from a pattern.
Long answer: My mom started me off around the time she had bought her first sewing machine. It was a Kenmore, (my uncle worked at Sears) and a beast of a thing!  I asked if I could sew too, half expecting her to say no but she said yes!  She still has the pillow I made, with a pocket (and without a pattern!).  I've been hooked ever since but to be fair I will admit I did do it in secret for a while because it wasn't cool like volleyball – Ugh!
Once in high school I had an amazing Textiles  instructor.  She had just taken over from the previous teacher who had been there FORever! She had fresh ideas and I just loved her class, however it was all clothing.  Aside from art class, it turned out to be one of the most pertinent classes I ever took! I'm still waiting for those Chemistry classes to come in handy!
It wasn't until I was in art school that I got into quilting. I took a beginner class from, (I believe it was but I might be wrong) The Thread Bear on 4th in Vancouver. I was studying silk-screening and was going to print my own fabric to make a quilt. I didn't end up making the project but when I was pregnant with my first son I took nesting very seriously and made three quilts! Bam, just like that!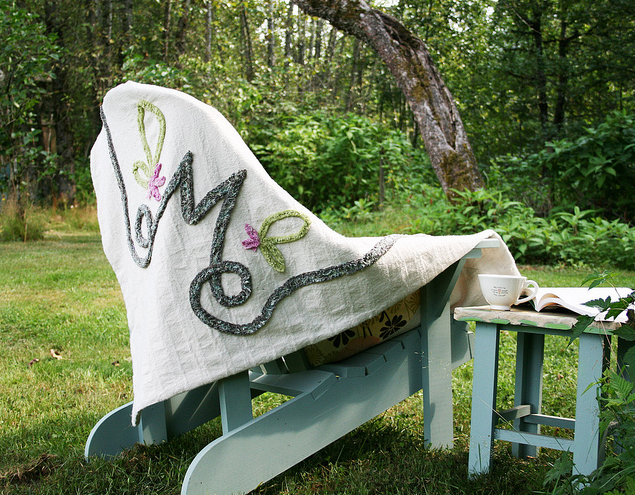 2. We know you're not typically a "pattern" person and prefer to work from your own designs, what inspires you and how do you get started creating and then sewing a new idea?
After finishing the group mystery quilts earlier this year I've come to realize I'm lousy at following patterns! Lol!  So maybe it's by default that I don't sew from patterns! Either way, I just love the puzzle of figuring out how to make an idea I have in my head real!
Honestly I don't know where my ideas come from. Sometimes they just pop into my head but other times I'll see something that will trigger an idea. I have noticed lately I've been having sculptural tendencies though.
As for starting and idea, I no longer wait for the perfect timing and I no longer use the excuse I'm too busy. I just do it. Sometimes I don't get to work for as long of stints as I'd like but oddly enough it all seems to get done!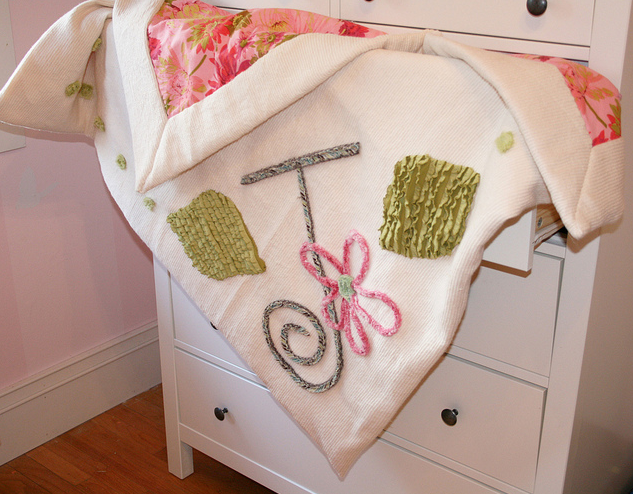 3. Do you only sew quilts or do you sew other things like clothing, crafts?
I mostly only sew quilts now. I used to sew cloths but it all seems too finicky, especially if you have to make alterations-shiver, shiver. Every once in a while I'll get a hankering to make some clothing. I have been known to make a skirt here or there and that usually cures me for a couple of years or so!
As for crafts, I seem to always have something on the backburner. In the last year it feels like I've made hundreds of cupcake pin cushions!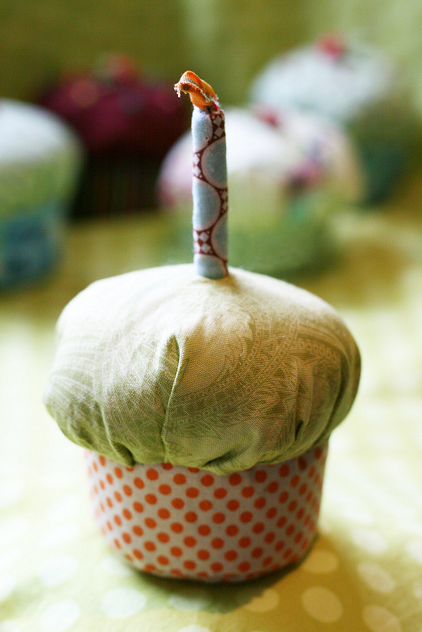 4. Where do you sew? Kitchen table? Do you have your own sewing room or studio?
For years I have sewn on the kitchen table. Many meals have been eaten around "Mommy's project" because I couldn't bare tearing it down ONCE again! I'll admit now I'm pretty spoilt. A couple of years ago we built out the top of our garage into studio space, half of it is mine and the other half is my husband's.  It's pretty sweet, although it isn't completely finished. Oddly I'm always sewing instead of finishing the bits and bobs of the studio that need to be done-hmmm.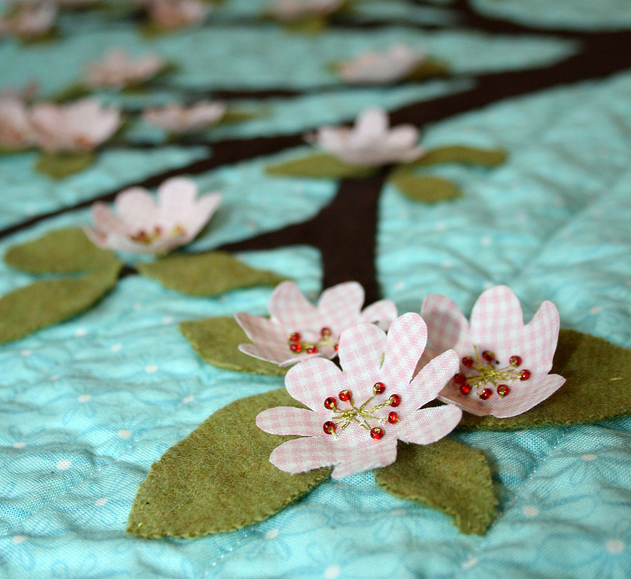 5. When you sew do you listen to music, watch movies or sit in silence? If yes, what was the last thing you listened to or watched while quilting?
I inherited two record collections a couple of years ago, one from my grandfather and one when my in-laws moved out here. I go old school, mostly, and listen to records while I'm in the studio.  Records are so short, you have to change them all the time but it gives me chance to change positions and move around. The last thing I listened to I think was Kiss, which wasn't from my grandpa's collection

6. Do you having a quilting "assistant" ? A child, interested partner or furry friend that always likes to come and help out?
My husband, Chris, has a great eye and gives honest and sincere input if I'm ever super stuck. I've been working toward trusting myself though. When I sit quietly, the answer eventually comes and if not, I know Chris has my back!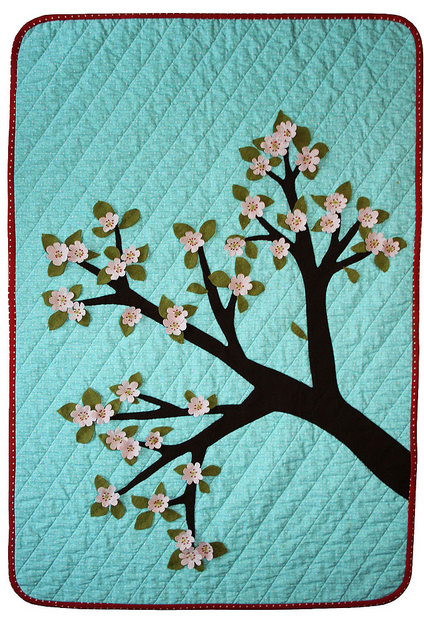 7. Are you a morning, daytime or night owl quilter?
I'm always freshest in the morning but I'll work later if I need to. If something's gotta be done it's gotta be done! Mostly I try to sew when everyone is at school or at work. Summers are a bit trickier. My oldest son has figured me out though and asks "Do you want us to have friends over so you can get stuff done?"  Ummm, noooo…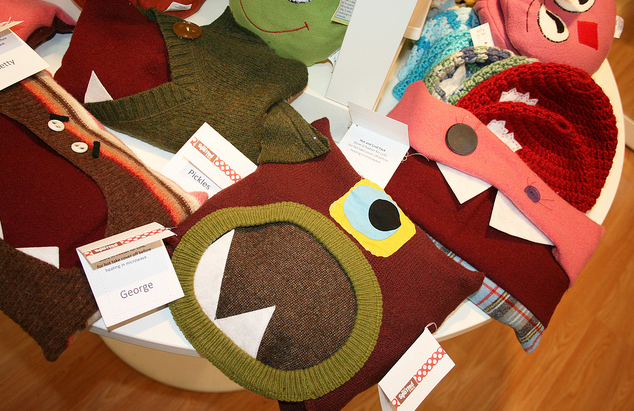 8. Who is your favorite fabric/quilt designer and why?
I love Denyse Schmidt quilts. There is something about them that just gets me so excited! Maybe it's the colours?  I love that it's not foofy, it's kinda tomboyish. I quite like her fabrics too and I've been realizing I buy a lot of Michael Millar. The last time I saw fabric that really got me hot and bothered was Ruby Star Rising. I love the View-Master print (pop culture has a warm place in my heart!)
9. Do you have a favorite quilting book/blog?
I'm always perusing blogs but I find I'm somewhat old school (big surprise after finding out I listen to records, hey!). I love books! I'd even go as far as saying I'm a book whore. I love 'em and can't get enough of 'em. My favourite lately has been Boo Davis's "Dare to be Square".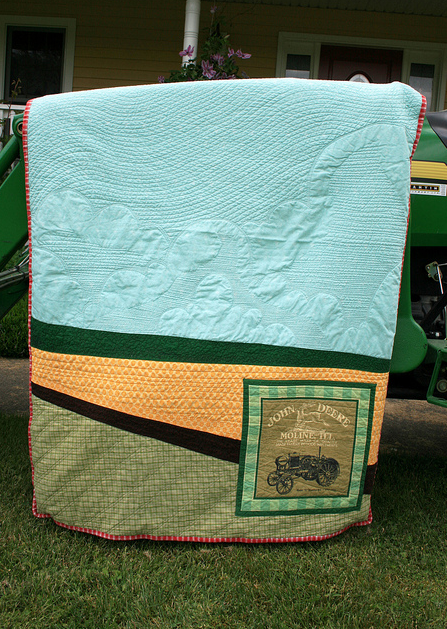 10. What is your favorite colour to work with? And your least favorite?
My favourite colour is soft wheat yellow. Not too dull though! It's a very specific colour. My father in laws favourite colour is yellow, too, but it's man yellow (like the sports colour). When people think we like the same colour I make sure they know the difference.
Two colours I haven't used that often (well, let's call a spade a spade, at all!) are grey and purple. I admit (this is turning out to be like confession) I am a colour snob! I have never liked grey. I called it a non-colour (I know, how rude right!). I'm really looking forward to the swap this month.  I've seen so many inspiring quilts lately with grey that I'm quite exited. It's time to shake off any prejudices I've had (where they came from I don't know) against grey!
As for purple, I made my oldest son a quilt when he turned eight and my youngest has clued in that he's due for one this coming birthday. He's requested he'd like lots of purple in it, so I guess I'll learn to love purple too!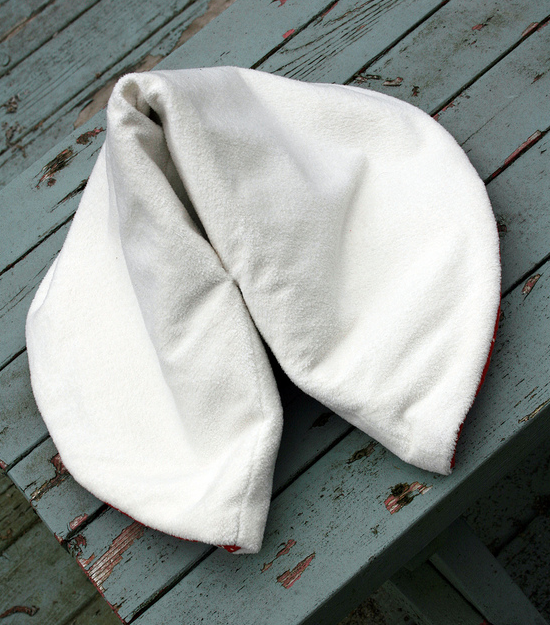 11. What was the last thing that you've sewn that you felt really proud of?
I try to finish everything until I hit that point of, "ooh I like that!" I'm pretty tickled with my fortune cookie quilt (because it worked! lol!). Sometimes these ideas seem great in my head but when push comes to shove they don't work and have to be rethought out or retried.
12. Have any of your quilts or sewing projects ever gone really wrong? What did you learn from it?
With all my quilts I try to do something I've never done before so there is always a risk they could flop but the up side is I learn from every quilt I make!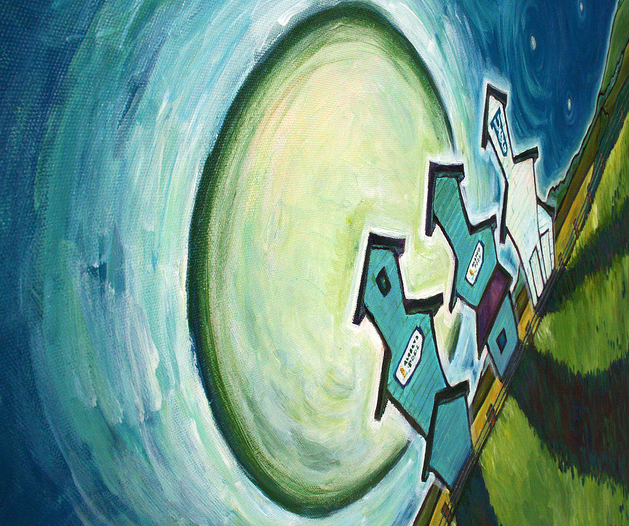 13. Your work, and way of working, is very modern and also very artistic, and you are also a very, very talented artist and painter- does your artwork ever flow over into your quilts (or vice versa) and how do you incorporate your artsy side with your quilter side?
I think of them as one and the same, they feed each other. Although, right now, I'd say the quilt side is over flowing more into the drawing and artsy side. For example, I don't think the sketch book project or my fabric drawing wouldn't have existed with out of my love of sewing and fabric!
14. We won't tell but seriously how big is your fabric stash?
I think I'm a reincarnated woman of the depression. I feel the need to use everything I buy! If I buy it and don't use it I get antsy, which leads to too many projects on the go, which leads to feeling overwhelmed. I've got a system; I keep all my favourite quilting fabric in one cubby in my table. It's not allowed to get bigger than that.  I try to buy for each project and not buy this that and the other thing, however, I have been known to buy a metre, here and there, of an "I must have that!"
15. How many projects do you have on the go right now?
I work on one quilt at a time but I've got a sketch book full of ideas (not to mention the ones I haven't drawn out yet).  I make smaller quilts for that very reason, so I can get them out of my head and into reality faster.  I figure if I really love the way something has turned out I can make it larger and will have already have worked out the kinks, design and construction wise. That way I won't have wasted a huge amount of time, or worse, fabric!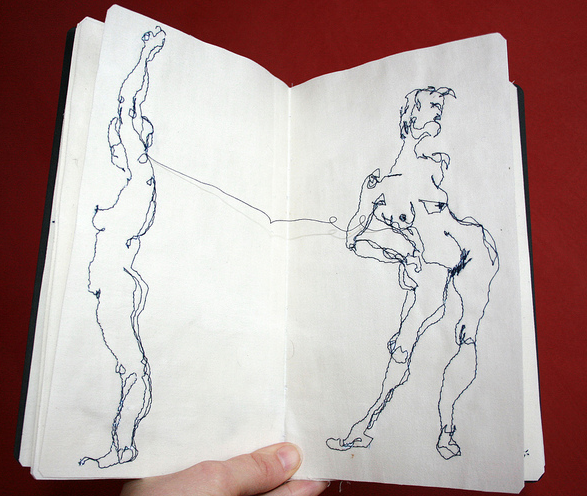 16. Do you have a favourite quilting tool?
I quite love my pin cushion thread catcher and whichever new gadget I've bought last ; ) they are always my favourite!
17. What is your favourite quilting technique? Machine quilting, hand quilting or appliqué, etc..?
Yes!
18. What are some new challenges, or things you'd like to learn, that you'd like to take on right now or that you are currently working on?
Every project is a new challenge. I just want to get better at everything and always be learning more! Also, I really want to get these ideas out of my head and into reality. It's getting too crammed in here!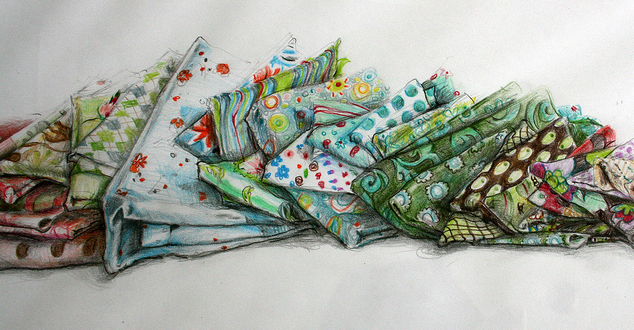 19. You are participating in an upcoming Modern Quilting Bee! What do you hope to learn or think you will enjoy most from it?
I'm really looking forward to the Modern Quilting Bee for that reason I just gave above.  Plus, I know this Bee will challenge my sense of colour and introduce me to techniques that I've never tried before and maybe would have never tried.
20. When was the last stash enhancement you did (shhh!) and what was it?
View-Finder fabric from Ruby Star Rising! It was one of those deal breakers… I don't have a project for it but I just had to have it!
And! Plus one more question (The BIG question)…
21. What makes your quilts modern?
I think the fabrics I choose are a huge factor. I like to think my designs are modern. The community of modern quilting plays a big factor too! It makes me feel like I'm at home. I don't feel like, "What are they talking about?" I get it! I so get it and LOVE it!