Colleen sent me lots of great photos but I have to admit, my favourite photo is at the very end. I think it captures Colleen's personality and her amazing quilting ability! (In a singsong, teasing voice). . . but you have to read to the very end to see it!
1. Who taught you to sew and what age were you?
I learned to sew in high school. I don't remember the name of my home ec teacher, but I do remember the day my Mom brought home the Singer sewing machine she bought from a friend. It had these cool discs that you could use to make fancy stitches. I still have that machine.
2. Do you remember the moment when you realized you loved sewing and fabric?
My mom was a prolific seamstress – there were six kids in my family, and she made most of our clothes while we were growing up. I always enjoyed selecting fabrics for the clothes she would make, but I didn't pick up the sewing bug until much later, when I started quilting.
3. Have you passed on the addiction? Have you taught anyone else to sew? Is there anyone especially who comes to mind?
My 13-year-old half-sister has the same creative bug that I do, and last year she sewed little gift bags with surprises inside. I helped her pick out the fabrics and design the bags, then taught her some decorative stitches and how to create the ribbon ties for the bags. She's learning to sew at school, and she wants to get into quilting.
4. You make quilts but there other creative things you do that involves thread and needles?
In the past I did embroidery and counted cross stitch (my first quilt was of cross stitch Victoria houses in an attic window frame), and I also like to knit, crochet, weave…
5. When you're not quilting (or using thread and needles) what other things do you do?
Well, I work full-time, teach part-time, and I'm a graduate student, so my life is pretty full. But I enjoy making books, printmaking, and making one-of-a-kind handmade cards for special occasions. I also like playing with different media for drawing and paints (although I prefer acrylic paints and coloured pencil) and finding interesting things to do with my photos.
6. Where do you sew, is it in a studio, at a kitchen table?
My home is not very organized, so I don't have a space right now for sewing. And I'm really a social quilter – I like to be in the company of others. So the trunk of my car is my portable sewing room, and I sew wherever I can find a sewing partner with a space, which could be a dining room table, a card table, the church where my other guild sews one Saturday each month, retreats…
7. Do you listen to music, watch movies or do you just listen to you sewing machine hmmm as you sew along? If yes to music or movies, what were you listening to the last time you were working on a quilt?
When I'm sewing on my own, I like to have the TV on in the background. I'm usually about half way through a program before I realize what it is, and that I don't really like it. But I really prefer having the conversations of others swirling around me – even though at some point someone will inevitably say, "Colleen, you're so quiet over there."
8. When do you sew? Are you a daytime or nighttime quilter?
I'm a daytime quilter. That's when others are available, and my brain starts to get really active in the evening – I like to be in a kind of Zen state when I'm sewing.
9. Is there a certain quilting tool you couldn't live without and think everyone else should have too?
Well, I do seem to spend quite a bit of time with my seam ripper, but lately I'm in love with my Steady Betty. It really does keep seams from warping or stretching when you press them, and my quilt blocks are much more square since I started using it.
10. If you're stuck on a colour choice or design while quilting who do you consult or bounce ideas off of?
My cousin, Bryan. He has the most amazing eye when it comes to colour and quilting (and he's a fabulous quilter).
11. Who is your favourite fabric designer? And why?
I have to admit that I'm not much of a fabric connoisseur. I don't really pay attention to specific designers – it's the colour and pattern that draws me. I rarely buy more than 2 or 3 fabrics from the same line; I like to mix and match.
12. Who is your favourite quilt designer? And why?
Again, I'm a bit of a philistine. I know what I like when I see it – often bold colours, interesting lines, or asymmetrical designs draw my eye. But the names of the designers? If I know it, I'll include it on the label.
13. Do you have a favourite quilting book or blog? If so please divulge?
A while back I bough a book called City Quilts – I was drawn by the graphic simplicity of the designs. I don't really follow blogs, although I enjoy visiting them when I see them recommended by others.
14. Let's talk about your fabric stash, seriously how big is it? (We won't tell, promise!)
Let's just say it's embarrassing and leave it at that. Supposedly I have a self-imposed ban on buying new fabrics, but my stash is not very modern, so whenever I take on one of these challenges, I find myself in a fabric store.
15. What is the colour palette you tend to use the most?
Bright … anything eye-popping (it's my mother's influence). I'm drawn by certain colour combinations, but don't have an allegiance to any particular colour.
16. Is there a colour you find you tend not to use in your quilts?
A while back I would have said white, grey, and brown, but I've used (or have plans to use) all of them in the last 6 months. I don't use a lot of yellow, but only because a little goes a long way.
17. What was the last quilt you made that you were really proud of? What the last quilt you made that you were disappointed in and what did you learn from it?
My Kona Brights challenge quilt. It wasn't perfectly executed, but I was really proud of the way I was able to make something really unique and beautiful, even though I made mis-step after mis-step along the way. I once made an Irish chain quilt top, and used two different machines. About halfway through piecing the top together, I realized that my ¼" seams on one machine were quite different from my ¼" seams on the other machine. So I wasn't able to finish it unless I wanted to take most of it apart and start again. But I decided I didn't really like the fabrics I'd selected, so it wasn't that big a loss.
18. For many of us the ideas flow faster than our output. How many projects do you have in the works right now? And how many quilt projects do you have in the closet with plans of getting to one day?
I definitely have no shortage of ideas. Right now, I have 4 quilts in progress, 2 in the planning stage, and I've lost count of the ones that are sitting in the closet for that mythical day when I get around to them. I also have a couple of quilts my Mom wasn't able to finish (including that first quilt I made – she was hand-quilting it).
19. Do you have a favourite quilting technique? Do you have a quilting technique you dislike?
I like to experiment, and I rarely do the same thing twice, so I tend not to develop favourites. My aunt and I made a quilt-as-you-go quilt, and I probably won't do that one ever again. And Bargello scares me, so I'm not sure if I'll ever feel brave (or patient) enough to attempt one.
20. What are some new challenges you'd like to take on right now? For example, a new technique you're itching to try, making a larger quilt than ever before or doing something in a quilt that takes you out of you comfort zone?
This past year I started experimenting with my own quilt designs, and that has definitely taken me out of my comfort zone. But I love it, and the ideas keep flowing, so I guess that's my current challenge. I'd also like to try working with hexagons – I'm fascinated by English paper piecing, and I keep thinking it would be fun to give it a modern twist. And machine quilting – I really need to continue working on making friends with my sewing machine so that I feel more comfortable with free motion quilting and thread painting.
And! Plus one more question (The BIG question!)
21. What makes your quilts modern?
I'm pretty new to modern quilting, but I've started using more solids in my quilts and thinking more about negative space, which I guess gives them a modern twist.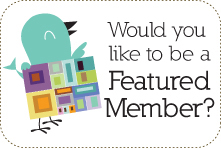 Each month we'll be featuring one of our members here and on the blog, and get to know them with a fun little questionnaire about what they love to sew, their favorite colours, fabrics and other quilty goodness they'd like to share. If you'd like to be on the list or would like to nominate a member to be featured, contact us and let us know.