Cue the music…Here she is in all her glory, Miss February herself, the fearless queen of free motion! Barbara!!
1. Who taught you to sew and what age were you?
I can't remember what age I was, I remembering going to fabric stores when I was young with my Mom she sewed probably most of my clothes. My Mom taught me to sew, and my Home Economics teacher a bit. With quilting, Wendy Lewington inspired me and taught me some hand quilting.
2. Do you remember the moment when you realized you loved sewing and fabric?
Probably when I was in my teens, I worked in the fabric depart at Zellars part time and had a fabric stash for clothing sewing at that point.
3. Have you passed on the addiction? Have you taught anyone else to sew? Is there anyone especially who comes to mind?
I have taught my girlfriend Kathy, my book club members, Judy, Tracey, Joanna, and Gail some basics, and my two daughters to sew. Judy and Kathy have really caught the bug.
4. You make quilts but there other creative things you do that involves thread and needles?
I have made fabric bowls, needle punched wool roving to make a project, made a ton of quilted or sewn bags. I did do a bit of simple knitting and would like to do some more.
5. When you're not quilting (or using thread and needles) what other things do you do?
Read, email friends, do yoga, exercise, travel, spend with friends and family. Starting to read blogs, and look at quilt sights. Oh yes, watch tv, Castle, NCIS

6. Where do you sew, is it in a studio, at a kitchen table?
I sometimes sew at the dining room table when I have friends over, trying to sew more down in my sewing area.
7. Do you listen to music, watch movies or do you just listen to you sewing machine hmmm as you sew along? If yes to music or movies, what were you listening to the last time you were working on a quilt?
Hand sewing I sometimes watch TV. Quilting, if I listen to something, I have tried doing a book tape, Take 3 Karen Kingsbury. Want to get my IPod set up so I can play it when I sew.

8. When do you sew? Are you a daytime or nighttime quilter?
Depends on when I am inspired, have time and the project is due.
9. Is there a certain quilting tool you couldn't live without and think everyone else should have too?
I like my 3 ½ inch by 24 inch ruler, and my needle threading tool
10. If you're stuck on a colour choice or design while quilting who do you consult or bounce ideas off of?
Many different people, sometimes my daughters, or store staff or a quilting buddy if one is around I sometimes email my friend Tracy on the island for inspiration.

11. Who is your favourite fabric designer? And why?
Cynthia Frenette, love her designs, so fun and interesting.
12. Who is your favourite quilt designer? And why?
I do not have a favourite quilt designer, I never have had, I am still quite new to modern designs.
13. Do you have a favourite quilting book or blog? If so please divulge?
Leah Day's 365 days of free motion quilting. I also really like the Quilt arts Magazine and renewed my subscription this year.
14. Let's talk about your fabric stash, seriously how big is it? (We won't tell, promise!)
Think it is pretty big, and I have been able to make a few quilts now out of my stash, with only a few additional pieces. I am planning on doing a spring clean out, as some of my fabrics are older or ones I cannot see wanting to use anymore. I want to use up some of newer fabrics and make some quilts before I build my stash much more.
15. What is the colour palette you tend to use the most?
Not sure, although for awhile I was known for always have purple in my quilts. I do like more rich tones. I have been trying to use colours I did not use before, to explore them., and appreciate them. I never have really appreciated brown and green untilI made my Rear Window Quilt, now I love it.
16. Is there a colour you find you tend not to use in your quilts?
Up until I joined the modern guild, I never used solids, really did not like them. I have starting to like using them now, and like how you can really show off a design. The colour I probably have not really used much is White, which I am now planning to use in one of the next quilts I make.

17. What was the last quilt you made that you were really proud of? What the last quilt you made that you were disappointed in and what did you learn from it?
I really liked my Rear window quilt, rectangles in batiks, natural tones, that I quilted leaves on. I also liked my thread painted Christmas piece with the Swarovski jewels. Not sure what project I was disappointed in, maybe one of my UFO that I did not finish. What I would have learned was better piecing skills.
18. For many of us the ideas flow faster than our output. How many projects do you have in the works right now? And how many quilt projects do you have in the closet with plans of getting to one day?
Ok true confession time, I actually just recently made a list of UFO"S (not sure it is really complete) I have 20 UFOs started, and 8 projects as fabric waiting in baskets or ideas I want to do. Some projects never make it to onto the "to do list", they just happen and maybe end up on a finished list.
19. Do you have a favourite quilting technique? Do you have a quilting technique you dislike?
I love free motion quilting and thread play. Not keen on paper piecing and have not really taken to a hand appliqué, although I do like hand sewing.
20. What are some new challenges you'd like to take on right now? For example, a new technique you're itching to try, making a larger quilt than ever before or doing something in a quilt that takes you out of you comfort zone?
I have a challenge to myself to finish some of my UFO"S before I jump into new projects. I want to try some more art quilt techniques, quilts with my own design, using more of my stash or cleaning it out. In general I just want to learn more, that is one of the things about quilting that I love; there is always something new to learn. Also I want to explore and follow more blogs Oh, yes those FVMQG challenges too.
And! Plus one more question (The BIG question!)
21. What makes your quilts modern?
I don't really know if I have made a truly modern quilt yet. I think what I like about the Modern theme is breaking rules and doing more improv or abstract design. What I am enjoying now is I have a different attitude with my quilting; I am more interested in playing and exploring design in free motion patterns and maybe some painting and enjoying the process more than the result.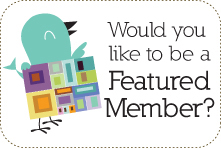 Each month we'll be featuring one of our members here and on the blog, and get to know them with a fun little questionnaire about what they love to sew, their favorite colours, fabrics and other quilty goodness they'd like to share. If you'd like to be on the list or would like to nominate a member to be featured, contact us and let us know.