Little Miss Ellen…She may be quiet, but it's the quiet ones you have to watch! I think we all were blown away at our first retreat by her. Happily and busily we were all sewing away for hours and when came up for air, we realized Ellen had completed three quilt tops during that time! Pretty impressive and we've been pretty impressed with her ever since! Here are her 2o questions (plus one!)
1. Who taught you to sew and what age were you? I remember my mom teaching me to hand sew at about the age of 6. The first thing I made was an original sock monkey. The ones made from a work sock That was about 1963. I use to make Barbie doll clothes using fabric scraps of my Moms. I didn't use a machine until grade 8 where I started on a treadle machine.
2. Do you remember the moment when you realized you loved sewing and fabric? Yes I am pretty sure it was when I realized that I could turn a sock into a monkey. It was actually quite magical to me. That may explain my ongoing love of sock monkeys! I also watched my sister Gail become a wonderful seamstress. She made my wedding gown and all of my bridesmaid dresses.
3. Have you passed on the addiction? Have you taught anyone else to sew? Is there anyone especially who comes to mind? I have not taught anyone specifically to sew but I have taught some to quilt. I have proudly passed on my quilting addiction to a few. My most special "recruit" is my sister Gail who is also in our guild and she was a natural.
4. You make quilts but there other creative things you do that involves thread and needles? I used to do test knitting for a designer when my kids were young, actually it was more like taking a very poorly written idea and making it into a readable pattern for others to be able to follow. I like to do machine embroidery, as well as hand embroidery.
5. When you're not quilting(or using thread and needles) what other things do you do? I like to ride my bike (although not in the cold) I do colour pencil paintings and photography. I also like to travel and collect fabric while traveling!!
6. Where do you sew, is it in a studio, at a kitchen table? I have a very messy chaotic studio that I love because I can just shut the door and walk away or just hide away and sew for hours. A creative mind is seldom tidy.
7. Do you listen to music, watch movies or do you just listen> to you> sewing machine hmmm as you sew along? If yes to music or movies, what were you listening too the last time your were working on a quilt? Sometimes music an sometimes a movie or TV, it is more for noise than anything else. Last time I sewed it was QMFM103.5 Christmas 24hrs a day!
8. When do you sew? Are you a daytime or nighttime quilter? Whenever the mood strikes (when not at work) Mostly at night though.
9. Is there a certain quilting tool you couldn't live without and think everyone else should have too? I love my 8 and 1/2″ by 24″ ruler it is such a more useful ruler than the 6 by 24
10. If you're stuck on a colour choice or design while quilting who do you consult or bounce ideas off of? Often husband but I usually go with my gut and ignore his advice. lol
11. Who is your favourite fabric designer? And why? If I had to choose I would have to say Kaffe Fassett but our Cynthia is right up there! Who is your favourite quilt designer? And why? Me! Lol! No one designer to speak of. I love parts of so many designers works but usually find a way to make it my own.
12. Do you have a favourite quilting book or blog? If so please divulge? My farourite blog changes with each new one I see. I love it when Darlene does the leg work and then passes the sites along. Thanks Darlene!
13. Let's talk about your fabric stash, seriously how big is it? (We won't tell, promise!) Oh boy….. It is huge. And not only do I have huge fabric stash, I have a huge quilt top stash. UFO's galore!! I declare the year of 2012 to be the year of finishing………we'll see.
14. What is the colour palette you tend to use the most? I haven't met a colour I didn't like. I am quite partial to blue and orange (together) these days.
15.Is there a colour you find you tend not to use in your quilts? Not too much green these days. No reason just an observation.
16. What was the last quilt you made that you were really proud of? My baby bird quilt. It was for a machine quilting online contest which it won. But mostly I loved the daring use of colour. I called it "Every crayon in the box represented" It can be seen on the OPW (oregon patchwork) website under 2011 winners.
17. What the last quilt you made that you were disappointed in and what did you learn from it? It's strange but I go through stages in most of my quilts when I am disappointed but find as I push through or sometimes leave it for a while I come back to it with a fresh perspective and see it much more positively. So I guess I learn as I go or learn to leave it be.
18. For many of us the ideas flow faster than our output. How many projects do you have in the works right now? And how many quilt projects do you have in the closet with plans of getting to one day? My brain is apt to explode; I think I need a staff to get all of the ideas out of my head and into fabric. I see potential designs everywhere I look. Sometimes it can be quite overwhelming.
19. Do you have a favourite quilting technique? Do you have a quilting technique you dislike? I like most techniques. I learned one recently in a poppy class that I quite like and will use in the future a very straight forward way of appliqué. I did not like paper piecing at all but have gained an appreciation for it (after years of resisting) and designed some paper piecing on one of potholders I made for my secret swap partner.
20. What are some new challenges you'd like to take on right now? For example, a new technique you're itching to try, making a larger quilt than ever before or doing something in a quilt that takes you out of your comfort zone? Every time I sew a modern quilt I am out of my comfort zone, although I always like the results. I have been spending time concentrating of free motion quilting, hopefully the end result being some of my UFO's getting done!
And! Plus one more question (The BIG question)
21. What makes your quilts modern?
I don't know that they truly are. I have always broken the "quilting rules" so I have the attitude. I would say my quilts are more eclectic than modern and I am okay with that.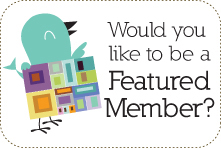 Each month we'll be featuring one of our members here and on the blog, and get to know them with a fun little questionnaire about what they love to sew, their favorite colours, fabrics and other quilty goodness they'd like to share. If you'd like to be on the list or would like to nominate a member to be featured, contact us and let us know.