Ta DA! It's Carol Browne and we love Carol Browne! She is a  photographer, quilter, blogger, royal enthusiast and kitty cat owner where does the awesomeness end?! She also has the most fantastic giggle! Oh and did I forget to mention,  she is this months Miss August!
1. Who taught you to sew and what age were you?
Hmmm…my mom sewed our Halloween costumes and my ballet costumes, but I didn't try it until grade 8 Home Ec. I made a tote bag and sewed the pocket on upside down. I did not enjoy that class.
2. Do you remember the moment when you realized you loved sewing and fabric?
Not really. I grew to love it.
3. Have you passed on the addiction?Have you taught anyone else to sew? Is there anyone especially who comes to mind?
Nope. Not yet. I'm not very good at it yet. I only figured out this July that it's okay not to have square edges! Barb Mortell's course has made me love sewing.
4. You make quilts but there other creative things you do that involves thread and needles?
I love to crochet, but have put the hook down for some reason lately. I'm a very slow knitter, and I love cross-stitching, too.
5. When you're not quilting (or using thread and needles) what other things do you do?
Taking photos and editing them & blogging. I feel like I am more of a documentarian these days. I like to document day to day moments and every day people.
6. Where do you sew, is it in a studio, at a kitchen table
In my craft-room. I'm pretty lucky. I have a whole room to myself.
7. Do you listen to music, watch movies or do you just listen to you sewing machine hmmm as you sew along? If yes to music or movies, what were you listening to the last time you were working on a quilt?
I listen to podcasts when I sew – mostly comedy podcasts. Mohr Stories (by Comic Jay Mohr) is my favourite.
8. When do you sew? Are you a daytime or nighttime quilter?
Both! I like working at night and in the afternoons. Sometimes I'll sew in the morning, but I prefer sleeping in to anything.
9. Is there a certain quilting tool you couldn't live without and think everyone else should have too?
A fresh rotary blade. Nothing like it.
10. If you're stuck on a colour choice or design while quilting who do you consult or bounce ideas off of?
Mike Browne! He was a graphic designer in one of his past jobs and is very good with colour AND composition!
11. Who is your favourite fabric designer? And why?
Cynthia Frenette. Because she's awesome, that's why.
12. Who is your favourite quilt designer? And why?
Barb Mortell. Because she doesn't care if the lines are straight! And she taught me that! I can't thank her enough. The pressure of perfect lines has disappeared. I can just relax and sew.
13. Do you have a favourite quilting book or blog? If so please divulge?
So many to choose from, but I do love the Ookies from New Jersey. They also garden and can food. But they make beautiful quilts, too. This is one of their sets with all their works in progress – http://www.flickr.com/photos/interchangeableparts/sets/72157606752528138/with/6866483965/
14. Let's talk about your fabric stash, seriously how big is it? (We won't tell, promise!)
I don't think it's too huge. It's about 3 shelves full. Is that big?
15. What is the colour palette you tend to use the most?
So far, it's a lot of pink. And a few Amish grays. Also, I like patterns and I never know when to stop, so stuff looks a little cluttered sometimes.
16.  Is there a colour you find you tend not to use in your quilts?
So far, orange. But I haven't made a Halloween quilt yet.
17. What was the last quilt you made that you were really proud of? What the last quilt you made that you were disappointed in and what did you learn from it?
I loved my Barb Mortell quilt top! Did I mention she's the best? I'm going to make it into a pillow. I've made a lot of quilt tops I didn't like because the corners didn't match and they didn't look perfect. So I cut them up and made them into something else. I prefer the wonky on purpose look. Not the, "Oops, I measured twice and it still didn't come out right." look. There is a difference. At least, to me, there is. I'm such a hard ass! LOLS!
18. For many of us the ideas flow faster than our output. How many projects do you have in the works right now? And how many quilt projects do you have in the closet with plans of getting to one day?
3 quilt tops. But I have to get Mike's t-shirt quilt done first. I promised myself. And Mike.
19. Do you have a favourite quilting technique? Do you have a quilting technique you dislike?
Uh, I got ahead of myself – wonky on purpose.
20. What are some new challenges you'd like to take on right now? For example, a new technique you're itching to try, making a larger quilt than ever before or doing something in a quilt that takes you out of you comfort zone?
I just need to finish a proper quilt. I've done mug rugs, pillows and potholders. I need to finish a big quilt.
And! Plus one more question (The BIG question!)
21. What makes your quilts modern?
Wonky on purpose! And the internet!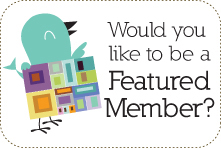 Each month we'll be featuring one of our members here and on the blog, and get to know them with a fun little questionnaire about what they love to sew, their favorite colours, fabrics and other quilty goodness they'd like to share. If you'd like to be on the list or would like to nominate a member to be featured, contact us and let us know.