I first met Vera when we attended the same monthly Bernina Club meetings a couple of years ago. She was very sweet and lovely but who would have guessed Vera was such a Mod Quilter! She has really embraced Modern Quilting and has been keeping us on our toes just to keep up with her! Go Vera, go Vera, go, go, go, go!
1. Who taught you to sew and what age were you?
Handwork was always part of our life growing up. Embroidery was on going as well as mending.
2. Do you remember the moment when you realized you loved sewing and fabric?
Made clothes for myself and my kids which was fun but not as much as quilting.
3. Have you passed on the addiction? Have you taught anyone else to sew? Is there anyone especially who comes to mind?
My girls are very good sewers so maybe I passed that on-we love fabric. I have a little grand daughter who has shown an interest in fabric-mainly red! Which is good.
4. You make quilts but there other creative things you do that involves thread and needles?
Have made many bags, little purses and so on. But pincushions are addictive also.
5. When you're not quilting (or using thread and needles) what other things do you do?
I'm good at shopping and looking for treasures at thrift stores. Buttons, pyrex, vintage stuff…
6. Do you sew, is it in a studio, at a kitchen table?
I have a nice big sewing area now that we have moved into a larger townhouse. I make good use of the space.
7. Do you listen to music, watch movies or do you just listen to you sewing machine hmmm as you sew along? If yes to music or movies, what were you listening to the last time you were working on a quilt?
I do it all-movies-TV-music and audio cds. The last book I listened to was John Grishams, The Partners.
8. When do you sew? Are you a daytime or nighttime quilter?
I sew whenever, I can sew very late if all is going well.
9. Is there a certain quilting tool you couldn't live without and think everyone else should have too?
Rotary cutter and mat.
10. If you're stuck on a colour choice or design while quilting who do you consult or bounce ideas off of?
Usually Andree and Carol are the friends I check with. Last week I took one of my quilts to FVQG in Delta to a brain storming session and they helped me.

11. Who is your favourite fabric designer? And why?
Robyn Pandolf was my first fav now I am enjoying watching our Cynthia on her journey.
12. Who is your favourite quilt designer? And why?
Have many -Kim Diehl, Barbara Brandeburg, Maggie Bonanomi, Black Bird designers and more.
13. Do you have a favourite quilting book or blog? If so please divulge?
Books from the ones mentioned above.
14. Let's talk about your fabric stash, seriously how big is it? (We won't tell, promise!)
My stash is huge. I inherited fabric, sewing machine & notions from a friend who is no longer able to sew.
15. What is the colour palette you tend to use the most?
I have always used country colours, plaids but now am enjoying modern fabrics.
16. Is there a colour you find you tend not to use in your quilts?
Love all colours.
17. What was the last quilt you made that you were really proud of? What the last quilt you made that you were disappointed in and what did you learn from it?
My last favorite is my modern star quilt. Turquoise stars on grey. I made a scrappy strip quilt for our charity quilting group, it was too busy.
18. For many of us the ideas flow faster than our output. How many projects do you have in the works right now? And how many quilt projects
do you have in the closet with plans of getting to one day?
I have six projects on the go now and about ten ready to start.
19. Do you have a favourite quilting technique? Do you have a quilting technique you dislike?
I like piecing and applique and not paper piecing.
20. What are some new challenges you'd like to take on right now? For example, a new technique you're itching to try, making a larger quilt than ever before or doing something in a quilt that takes you out of you comfort zone?
My challenges are always to finish what have started.
And! Plus one more question (The BIG question!)
21. What makes your quilts modern?
Its all about colour and no rules.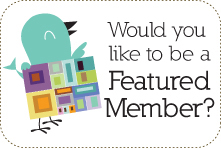 Each month we'll be featuring one of our members here and on the blog, and get to know them with a fun little questionnaire about what they love to sew, their favorite colours, fabrics and other quilty goodness they'd like to share. If you'd like to be on the list or would like to nominate a member to be featured, contact us and let us know.