This Month's Featured Member… Representing the Eastern part of the Fraser Valley Modern Quilting Guild, coming all the way from Chilliwack (Pretend you can hear Stevie Wonder in the back ground singing, "Isn't she lovely") Eryn Fraser!!!!! (Applause!!!)
Ready set…20 questions, plus one!
1. Who taught you to sew and what age were you?
I think I pretty much taught myself to sew. I come from a long line of crafty gals – my Mom, Aunt, Grandma and Great Grandma were always making something and that interest was passed on down to me. I do remember my Great Grandma trying to teach me to knit at age 7 or 8 and can still picture the little orange blanket I made. Gotta love the 80's!!
2. Do you remember the moment when you realized you loved sewing and fabric?
I always liked being able to make my own things, but I don't think it was until my husband bought me a sewing machine and serger for Christmas one year that my love for sewing and fabric exploded. I bet he's regretting that decision now!! That was almost 15 years ago and there's been no looking back.
3. Have you passed on the addiction? Have you taught anyone else to sew? Is there anyone especially who comes to mind?
Thankfully, I have passed on the "addiction". Not for fabric hoarding (yet…) but for crafting and sewing. My eight-year-old daughter has her own Brother sewing machine with pretty pink and purple flowers (couldn't find an orange one with snails but I'm working on it…) and finally started showing a genuine interest in sewing her own things. But boy can that girl craft! Every time I fish "found treasures" for crafting from her coat pockets, my heart swells up with pride.
4. Why do you make quilts, why not clothing?
I used to make clothing and probably will again. The fact that I'm on clothing hiatus doesn't stop me from buying fabric for "one day I'll make this" projects. I don't know what I find so appealing in quilts. It must be the fabrics… always the fabrics.
5. When you're not quilting what other things do you do?
You mean besides work and laundry? In my "spare time" I volunteer as a Brownie Guider and try to spend as much time possible with my oh-so-understanding husband and two children ages five and eight. I like to refinish furniture and ugly plastic things I find for free. I believe spray paint can make anything beautiful and get giddy at finding thrift store treasures. My most favorite recent find is an iron shaped lidded dish that is orange and turquoise – the colors of my sewing room!! I'm down with the camping too. We bought a trailer last year but try to stick to campgrounds with a swimming pool. Do I strike you as the roughing it kind of girl? I didn't think so.
6. Where do you sew, is it in a studio, at a kitchen table?
I am fortunate enough to have my own dedicated sewing room. I like to refer to it as my "Mom Cave". It's taken a while to complete it though as I have refinished all the furnishing myself and had to hunt down just the right accessories and pictures. It's still not 100% completed but probably never will be. I'm into continual evolution.
7. Do you listen to music, watch movies or do you just listen to you sewing machine hmmm as you sew along? If yes to music or movies, what were you listening too the last time you were working on a quilt?
As sad as it is, I don't listen to anything in my sewing room. Just the voices in my head that never seem to go away and tell me I need more fabric…
8. When do you sew? Are you a daytime or nighttime quilter?
I sew any time, all the time! I think my family remembers who I am…
9. Is there a certain quilting tool you couldn't live without and think everyone else should have too?
I do **LOVE** my rotary cutter.
10. If you're stuck on a colour choice or design while quilting who do you consult or bounce ideas off of?
I refer to the voices in my head. They haven't led me astray yet! I am glad I've found some like-minded quilters in the FVMQG. Those gals rock!
11. Who is your favourite fabric designer? And why?
Seriously? I don't have one "favorite" – that would be impossible. But if I had to think about who takes up a sizeable chunk of my fabric storage real estate, it would probably be Joel Dewberry, Denyse Schmidt, Riley Blake fabrics and Modas… love those Modas!! And why? Does because I do count as an answer?
12. Who is your favourite quilt designer? And why?
I don't have a favorite quilt designer. I mostly modify my own patterns based on something I've seen before. If I'm stuck in a quilter's block though, I can usually turn to the Moda Bake Shop and I'll find something that works for me.
13. Do you have a favourite quilting book, magazine or blog? If so please divulge?
I currently have 74 different quilting/crafting/fabric blogs that I check out on a daily basis. Some of my favorites are "Oh, Fransson!", "Crap I've Made", "Fussy Cut", "Simplify", "Cluck Cluck Sew", "Film in the Fridge" and "I Am Momma – Hear Me Roar".
14. Let's talk about your fabric stash, seriously how big is it? (We won't tell, promise!) What colours are you drawn too? Is there a colour you find you tend not to use in your quilts?
I am not ashamed of my fabric stash. I whole-heartedly embrace its sheer magnitude. Let's just say it's big – REAL BIG! My preference for colour is all over the place. I've got it all. Except purple. Must get more purple. Oh great, just what I needed… another fabric mission. Check back with me later to see the results.
(Eryn keeps her favourite fabrics in a place of honour, in the orange baskets on her shelf)
15. What was the last quilt you made that you were really proud of?
I'm quite pleased with how the quilt I recently made for my daughter turned out. It's a twin sized version of Urban Cabin by Atkinson Designs. I used fabrics from Ty Pennington's debut fabric line – Impressions – in ice, persimmon and espresso. Very grown up. My friend Bonnie Borseth professionally quilted it and, like usual, she exceeded all my expectations.
16. What the last quilt you made that you were disappointed in and what did you learn from it?
I've never been disappointed in an entire quilt – just pieces of it. Like the Lollipop quilt I just finished. I butchered the binding on that one. I made my allowance too big and had to cut it down after the binding was attached. It would've been fine if it wasn't for the corners. Luckily, my five-year-old is not too critical of my sewing techniques. Yet.
17. For many of us the ideas flow faster than our output. How many projects do you have in the works right now? How many projects do you have percolating around in your head right now?
The other night I couldn't sleep so I went to my sewing room and wrote down all the fabric collections I have for "future" projects. I have 47 such collections (that number could and probably will increase by the time this is published) and since I can't churn them out fast enough, I will change my mind 20 times on a pattern before I actually make a quilt. Although I've been averaging a quilt a week lately and am crossing some quilts off the "to do" list. Phew!
18. Do you have a favourite quilting technique? Do you have a quilting technique you dislike?
I like anything that can help me churn out those quilts faster. I like to keep the petal to the metal!! I dislike anything fussy or finicky and ROUNDED!! I only do straight lines and chain piecing!!
19. What are some new challenges you'd like to take on right now? For example, a new technique you're itching to try, making a larger quilt than ever before or doing something in a quilt that takes you out of you comfort zone?
I need my quilting to be my down time – I have to think and use my brain all day at work (which is highly overrated). I tend to pick patterns that are classified in the "Easy Peasy" category. I would however like to tackle some machine free-motion quilting one day should I find someone willing to teach me ;o) wink… wink…
20. In honor of this month, have you ever made a quilt with an Easter theme or one that contained a bunny with a fuzzy tail? At the very least, have you ever eaten an entire bag of mini chocolate eggs during the making of a quilt?
I have to respond "no" on all accounts. No Easter quilts, bunny tails or chocolate consumption. Oddly enough, I don't much care for chocolate – or ice cream either. I do like Beef Jerky but that might be more suited to making a quilt in honor of National Beef month, not Easter?
Plus one more question (The BIG question)
21. What makes your quilts modern?
Finally… an easy question!! My quilts are modern because they ain't your Grandma's quilts!! Back in the day, I used to make very traditional quilts and looking back, I question my fabric and pattern choices. If you saw my first quilt, you'd shake your head and wonder why a 24-year-old girl would make such a beast. I guess you have to kiss a few frogs to find your prince!! Now my fabric and pattern choices are bright, clean and fun – definitely modern IMO. I wonder what the next step on the quilting evolutionary scale is? Whatever it is, it better not change before I finish my 47 (and counting) projects!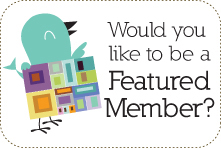 Each month we'll be featuring one of our members here and on the blog, and get to know them with a fun little questionnaire about what they love to sew, their favorite colours, fabrics and other quilty goodness they'd like to share. If you'd like to be on the list or would like to nominate a member to be featured, contact us and let us know.