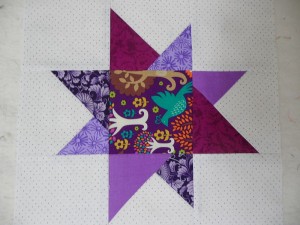 Welcome to the Wonky Star Block Challenge!  We thought it would be fun to have a challenge using some of the charm squares we have been swapping.  Here is the challenge… make a block or two and bring the blocks to our December Meeting.  For each block you bring, you will get a ticket to win all the blocks.  If we get a lot of blocks, we will divide them in two groups.  You might win enough wonky stars to make a quilt!  So get your wonky on and join us in the Wonky Star Block Challenge.
Wonky Stars: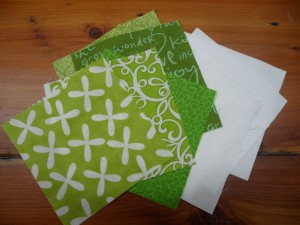 1.  Gather your 5″ charm squares.   For each block, you will need 5 print squares and  8 white or low volume squares.  You can make the white and low volume squares scrappy too… they do not have to be matchy-matchy.  Please keep the prints in each block in the same colour family but get scrappy!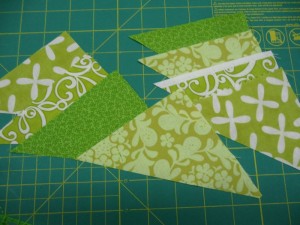 2.  Leave one print square whole but cut 4 of the print squares into triangles… cut on the diagonal.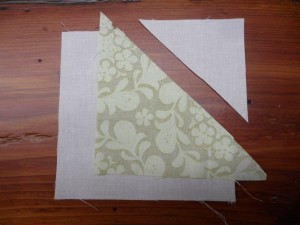 3.  Place a print triangle like so on your white or low volume square.  Get wonky.  They do not have to be perfect!  Stitch with a quarter inch seam.  Trim and finger press.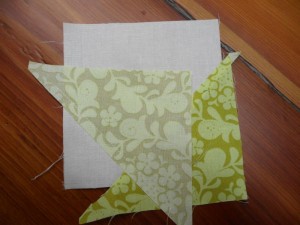 4.  Do it again with the other triangle.  Trim and set aside.  I like to make all the star point and press them in batches.  I am a lazy quilter and after pressing the star points, I stack them all up and trim them altogether so they are all 5″ square.  You might not be as lazy.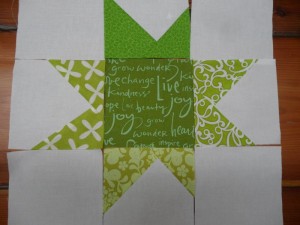 5.  Lay the points out in a pleasing arrangement and stitch!  Press your seams and bring your blocks to the meeting!  Have fun!