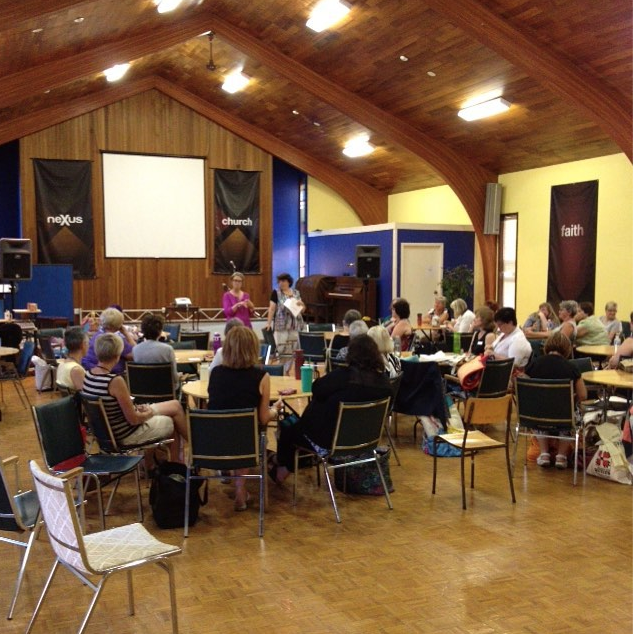 ~ Meeting wrap-ups by Hedda
There was no cowbell to open the meeting this month so Cathy (former school principal) used her teacher's whistle, which also worked very well. This was the first meeting in our new location at Parish of St. Matthew, 2010 Guilford Drive, Abbotsford, BC. It is a large space with a stage which makes it much easier to see everyone's lovely works during show and tell! The chairs are not too bad but definitely benefited from the tush cush challenge.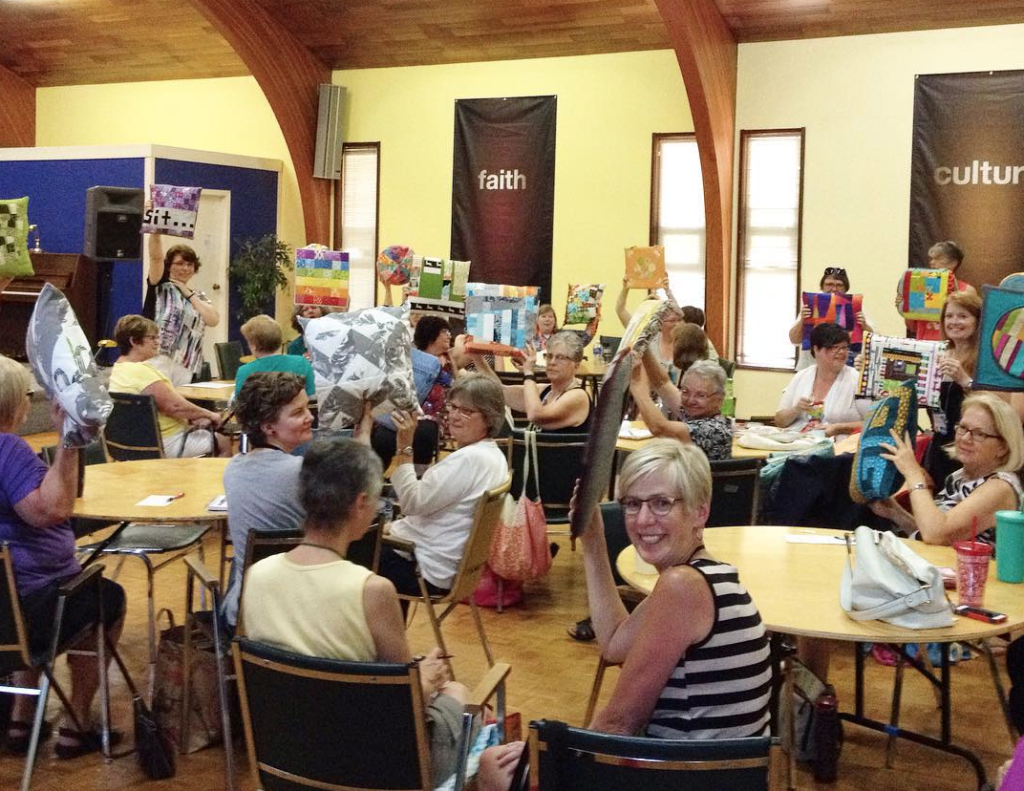 Upcoming Events – Darlene Barnes Rosner
Coffee Klatches
We have three  Coffee Klatch get-togethers planned for the fall. These are a fun, informal way for members to get together for coffee, usually in the area of a good fabric store. Upcoming Coffee Klatches are planned for October 3, October 31 and November 28. Darlene has invited everyone through the Guild Facebook group. Feel free to bring a friend – these are open to everyone.
Sew-Ins
Darlene has  set dates for three sew-ins this fall.  Dates are Sept 19, Oct 17 and Nov 21. The sew-ins are members-only, free, and always held at the University of the Fraser Valley Campus in Abbotsford. One again everyone has been invited through the Guild Facebook page. If anyone is interested in organizing a fabric swap or challenge at the sew-in, please talk to Darlene – always fun to add something extra to these events!
Modern Quilt Guild Update – Cathy Erickson
The Modern Quilt Guild has been offering lots of great (and free!) webinars for members lately. They are all online so that you can view them whenever you want. We highly recommend them!
The Guild also has an online gallery where you can post a photo of a modern quilt you are proud of. They are accepting submissions for 'Quilt of the Month' for 2016.  
The Seattle Meet-Up is approaching – it's still in the process of being organized.
September Annual General Meeting – Cathy
September is our Annual General Meeting – for members only, no guests please! We will hold our elections and it will also be our anniversary celebration. Make sure you wear your nametag – there will be prizes, plus games and cake. Everyone who brings a door prize will go home with one.
Pillowcase Update – Tracey Wiebe
Thanks to the generosity of this group among others Tracey was able to send 90 pillowcases to the annual Burn Camp, which is sponsored by the Firefighters Charitable Association. Kids travel from all over the province to attend. The kids loved the pillowcases and they were really fun to give out. Tracey is making arrangements for the extras to go to the Burn Unit this year.  She will coordinate pillowcases for Burn Camp again next year.
Membership Update – Sherri  Chalke
It's time now to renew memberships as they expire August 31. Forms can be mailed in – send Sherri a message on Facebook for her address.
Find all the membership information and membership form here.
Show & Tell
Lots of people doing lots of quilting despite the hot weather! We got to see notebook covers that are going to be swapped at the Seattle Meet-Up, plus loads of donation quilts. Our very own guild co-founder Cynthia Frenette premiered her Christmas line of fabric, 'Swell Noel'. Cynthia has also been busy creating a pattern for a really cool sewing caddy that will be available next month. Sherri showed off a the Supernova quilt she made in her class with Jacqui Gehring at the Sisters Outdoor Quilt Show.
Humble Beginnings Quilt Show
Many members were able to find their first quilts to share with the group. Some of them were even finished! Poofy polyester batting, broadcloth and polyester, missing points, chocolate brown and burgundy and the occasional rap on the knuckles from grandma….we've come a long way!