~ by Hedda
April's meeting photos can be found on flickr here (my apologies for no written wrap up for April- Cynthia)
May's meeting photos to come.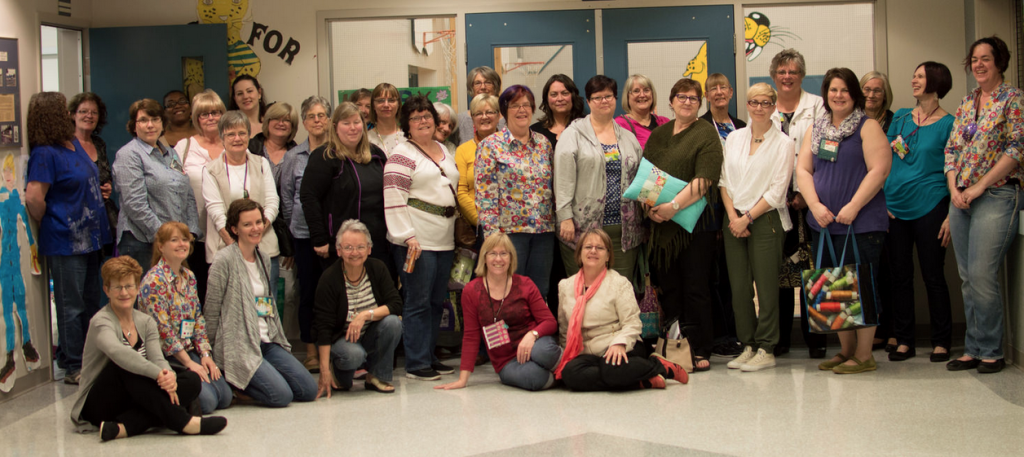 Group photo from April 2015 meeting, by Carol Browne
Cathy Erickson (President) introduced the executive committee members:
· Cynthia Frenette – Vice-President and co-founder
· Jean Jones – Treasurer
· Barbara Macleod – Doorprizes and meeting goodie coordinator. Please note that Barbara has started pronouncing her name 'Bahbahrah'.
· Sherri Chalke – Membership
· Ellen Lewis – Workshops and programmes
· Darlene Barnes Rosner – Sew-in and coffee klatch coordinator
Tonight is pickup for our bulk batting purchase through Overseas Fabric in Abbotsford. We encourage everyone to visit this store – he negotiated a great deal on the batting for us. Thanks to Deb and Barb (and Barb's hubby Bob) for setting up the super-efficient cutting station in the hall to make sure the batting was all cut by the time the meeting started. It was not a small job!
Membership Update – Sherri Chalke
We have four new members to the group, for a total of 66 full members. Sherri introduced the new members. We encourage all members new and existing to visit the group's private Facebook group. It's a busy group with lots of fun conversation.
Upcoming Events – Darlene Barnes Rosner
There is no coffee klatch scheduled for June. We usually have them on the first Saturday of each month. A great way to get together casually for coffee and chat about what we are up to. They are always set up as an event on our Facebook group so look there for more information.
The next sew-in is booked for May 30 at University of the Fraser Valley. Full information is on the group's Facebook page. We will try to have two rooms side by side this time to give us more space for basting quilts, having lunch, etc.
Penticton Quilt Show Update – Jean Jones
The show was excellent, the Penticton Guild was very happy to have us there. Lots of interest in our display and a very busy show.
Membership Survey – Cathy Erickson
We have been an official guild for 8 months now. Lynn Swanson (Communications) is putting together a member survey to find out what else we can do. We really need to hear back from people to keep the guild strong! Watch for an email with the link to the survey.
Annual General Meeting – Cathy Erickson
Now that we are an official guild, we need to have an official meeting once a year. We will have our official Annual General Meeting in September. We will be opening up nominations for all the executive committee positions – it's a one-year commitment.
Meet-Up with Vancouver Modern Quilt Guild – Peg McNichol
We've been invited to meet up with the Vancouver Modern Quilt Guild at the July 20 meeting. This is a picnic meeting at Trout Lake in Vancouver – very informal and many members bring family members etc. More information will be coming.
Pillowcase Sew-In – Tracey Wiebe
Tracey is spearheading a project to create a special pillowcase for each kid (ages 6-18) attending a camp for burn victims. Need about 80 pillowcases in total. She has kits made up to work on for the pillowcase sew-in June 6. Anyone is welcome to donate a pillowcase. If there are extras we will find an appropriate place for them. The sew-in is June 6 at Unsworth Elementary in Chilliwack.
Quiltcon Raffle – Cathy Erickson
Cathy made arrangements for us to receive one of the extra QuiltCon goodie bags. These were given out to people attending the most recent QuiltCon. Cathy Smith Mackay was the lucky winner!
Anniversary Party – Cathy Erickson
September is our anniversary month and we have a party every year. We need a committee to organize the party this year. Bonnie suggested having male dancers which means she's leading the committee. Anyone who's interested in helping organize it should send her a private message on Facebook. Possibly due to the dancer suggestion, there is no shortage of people wanting to help!
Zippy Pouch Swap
Zippy pouches with $10 worth of quilty gifts inside were handed out by ticket. There was a bounty of cool pouches with fun items inside. Thanks to everyone who made this such a fun swap!
Show and Tell
Guild members have been busy this month! Some show and tell highlights included fake (Lululemon) and genuine sashiko, a double-sided quilt with pixel butterflies on one side and quotes on the other side, and Cynthia's sewing machine block in the latest issue of Quiltmakers 100 Blocks (volume 11). We also saw some finished quilts from Krista Hennebury's Temperature Check class and from Jean Jones' curved piecing class. The show and tell is always a very inspirational and energizing part of the meeting. Thank you to everyone who brought items to share with the group!