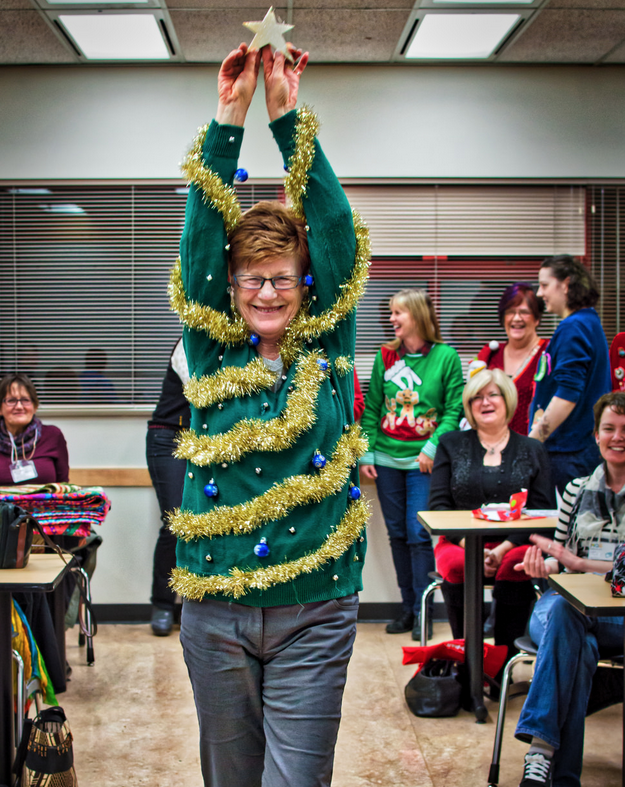 Our first ever Ugly Christmas Sweater fashion show! You can view all of the photos, with big thanks to Carol Browne, here.
Lysa opened the meeting by dramatically unveiling her Christmas sweatshirt featuring a lit-up beefcake Santa. She introduced the executive members:
· Sherri Chalke – Membership
· Barbara Macleod – Doorprizes and meeting goodie coordinator
· Ellen Lewis – Workshops and programmes
· Jean Jones – Treasurer
· Darlene Barnes Rosner – Sew-in and coffee klatch coordinator
· Lynn Swanson – Communications
· Cynthia Frenette – Vice-President and co-founder
· Cathy Erickson – President and swap and challenge coordinator
Meeting Locations
Because the group is growing and the rooms are not, we have a new meeting space starting in January. Jackson Elementary School, 33165 King Road. Abbotsford in the Multi-Purpose Room. We will need help with setup and teardown – please speak to Cathy if you can help.
January Destash
The January meeting will feature our annual de-stash. Do bring fabric, books, quilting and craft supplies that someone else can use. Do not bring your garbage. At the end of the night we will donate leftovers to charity. Crafting supplies are welcome (there is no requirement that everything be quilting-related). If you are bringing scraps, please bag them.
January Events
The next sew-in is scheduled for Jan. 17 at University of the Fraser Valley room A259 here at University of the Fraser Valley. Full details are on the Facebook group. These are very casual, really fun, space to sew, share your work and see what other people are working on. We usually run from about 8 – 5.
We will have a coffee klatch Jan 3, Saturday. This is Hamel's Super-Stitcher Weekend for anyone who want to make a little side trip. We are meeting at Kate's place. The full address and map are in the Facebook event that everyone has been invited to.
Nametags
Cathy reminded everyone to wear their nametags and challenged new members to have nametags for the January meeting.
Special Thank-Yous
Cathy asked the group to please acknowledge Carol Browne for her amazing photos and all the post-production work she does. Carol spends a lot of time making us look good!
Also a special thank you to Darlene who books our rooms, organizes the sew-ins and does a lot of work behind the scenes, and Charline for initially organizing our space at the U.
Feb 28 Workshop
Our next workshop is planned for Feb 28 in room A259 at University of the Fraser Valley. This is a modern quilting workshop with Wanda Mowry. She will talk to us about stash organization, ergonomics, new tools, using scraps, applique, give an intro to paper piecing and some other interesting techniques. The full day workshop is just $35 for paid FVMQG members and there is space for 20 people – contact Ellen to register.
Our next guild workshop is being planned for April. As a teaser, it will be led by a published author in modern quilting.
After these announcements the group enjoyed an ugly Christmas sweater show….this is definitely one place where photos speak louder than words!
Robert Kaufman Challenge – last call
A reminder about the Robert Kaufman Challenge – all the fabric has been donated by this company. Entries are due at the February meeting.
Show & Tell
December show & tell featured Christmas pillows galore, curved piecing work, spiderweb selvage blocks plus Kaffe Fassett and t-shirt quilts. This is always a favourite part of the meeting – thanks to everyone who brought in their work to share with the group!
The group enjoyed the secret gift exchange, social time, snacks and door prizes. A special thank-you to everyone who brought in a potluck snack and door prizes. Everyone in the group enjoys these!