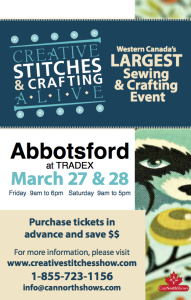 This year we are honoured to be participating as an exhibitor at The Creative Stitches Show in Abbotsford, at Tradex March 28-29, 2015.
We had so much fun last year, they asked us to do it again!
We will have a display of our challenge quilts sponsored by Robert Kaufman Fabrics, more quilts created by our members sponsored by Sew Sisters, plus some new swag  giveaways you won't want to miss! There are lots of great classes and lectures available, and we'll be presenting a stage show answering all those questions you might have about what the Modern quilting movement is all about.
You can check out the show brochure online here, and hope to see you there! Stop by our booth and say hi!